Budget 2015-16 of IMF, by IMF and for IMF: Dr Tahir-ul-Qadri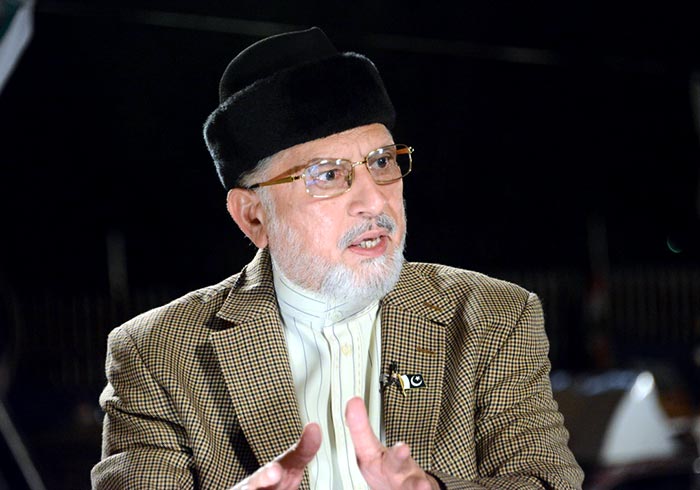 In his reaction to the budget 2015-16 announced by the Federal Finance Minister on June 05, PAT chief Dr Tahir-ul-Qadri has said that it is not the real budget, adding that real budget will come after the approval of this budget. He said that as long as this government remains imposed, it will be impossible to get rid of foreign loans and interest. He said that like the previous year, the budget for next fiscal year has also been financed by the loans of IMF. He said that it is not the people but the IMF, which should pin high hopes on the budget. He said that the rulers have rolled out grandiose plans for construction of roads, bridges and infrastructure projects instead of allocating money for social sector including education, justice, healthcare and local government system.
Dr Tahir-ul-Qadri said that cement, bricks and iron do not make a nation. He said that the people of Pakistan have no interest whatsoever in the budget. However, IMF and other multilateral donors were of course interested as they are to get back their money along with interest. He said that fixation of minimum wage to the tune of Rs. 13000 is a serious joke. He challenged the Finance Minister to make a budget of a family with Rs. 13000. He further stated that the cushion afforded to the government as a result of reduction of POL prices in the international market could not be capitalized on, adding that the government failed to pass on the relief to the people.
In his reaction, PAT President Dr Raheeq Ahmad Abbasi described the federal budget as disappointing and hopeless for the poor. He said that politics continues to be played on Diamer Bhasha Dam for last seven years. He said that the rulers are not interested in the development of water and hydropower sectors because water sector projects do not have many opportunities of kickbacks and commissions. He said that it is for this reason that they are building solar, coal and thermal projects. He said that the government missed all key targets last year. He said that in the same way, the budget for FY 2015-16 prepared by IMF will also gift nation with more loans, interest and price hike. He said that the economic team of the government has shackled the nation in the clutches of the IMF's loan programme, adding that as long as they are in power, our national economy can never stand on its feet. He said that 30% increase in the prices of edibles this year compared to last year is a glaring proof of the failure of this year's budget as well as the government.