PAT Women Wing lights candles in memory of Shaheed Tanzila Amjad & Shazia Murtaza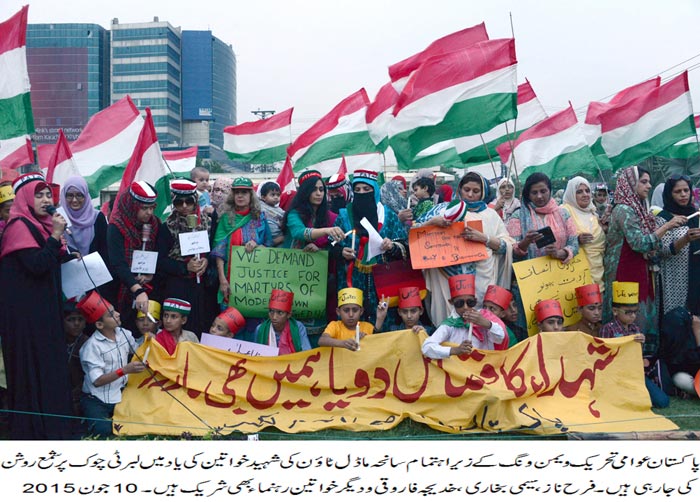 PAT and Minhaj-ul-Quran Women Wing lighted candles at Liberty Square in Lahore in the memory of Shaheed Tanzila Amjad and Shazia Murtaza. The women leaders gave the gift of bangles to the Punjab Chief Minister, Rana Sanaullah, IG Punjab, DIG Operations, and police personnel who took part in Model town operation and martyred the women by firing bullets at their faces. The women raised slogans against the government and demanded justice for the victims of Model Town tragedy.
The women delegations belonging to Pakistan Tehreek-i-Insaf (PTI) and Pakistan Muslim League (PML-Q) led by Dr Zarqa and Dr Seemi Bukhari and MPA Khadija Umar Farooqi, Majida Zaidi, Tamkeen Aftab, and Mahrukh Jamshed respectively attended the ceremony to express solidarity with PAT and protest lack of justice in Model Town. Dr Shahnaz Laghari was also present on the occasion.
Addressing the ceremony, Ms. Farah Naz, central President of Minhaj-ul-Quran Women League, said that no real man tortures innocent and unarmed women. She said that those who sprayed bullets at the unarmed and innocent women workers of PAT deserve the gift of bangles.
Reading out the joint declaration, Farah Naz said that we express our complete solidarity with our sisters Tanzila Amjad Shaheed and Shazia Murtaza Shaheed and demand the hanging of their killers. The joint communiqué further demanded that the Punjab CM and Law Minister Rana Sanaullah who are hindering dispensation of justice in Model Town case should immediately resign from their positions. It said that they should stay away from offices till the court of law gives them clean-chit. It demanded that the report of Justice Baqar Najfi should be released immediately. It said that if the rulers claim innocence then they should set up an impartial JIT with the concurrence of the families of martyrs. It also asked the government to retract the report of fake JIT.
Central women leaders Miss Tahira khan Nazima MWL, Miss Sidra Karamat Nazima Tanzimat, Miss Gulshan Irshad Nazima Dawat, Miss Ayesha Mubsher, Miss Anam Riaz president MSM Sisters, Miss Umme Kalsoom Qamar, Miss Sadia Hafeez Naib Nazima Dawat, Miss Aiman Yousaf School Coordinator, while speaking on the occasion, said that the Punjab Chief Minister had pledged before the whole nation that if the judicial commission even hinted at him, he would immediately resign from his office. He said that what to speak of a hint; the judicial commission has squarely held him responsible for Model Town tragedy, adding that his resignation is not merely a moral issue but a legal requirement as well.
PML-Q MPA Khadija Umar Farooqi said that it has been one year since the Model Town tragedy took place but the oppressed have not got justice yet. She said that this government of oppression cannot move on any longer. She said that the leadership of PML-Q stands by every PAT worker against brutalities committed in Model Town.
PTI leader Dr Seemi Bukhari, while speaking on the occasion, said that the Gullu Model of democracy would not stay intact any longer. She said that the martyrs of Model Town tragedy would surely get justice.
The hundreds of women protested the lack of justice in Model Town. The protest demonstration was attended by families and children of the martyrs.