PAT to observe June 16 as Martyrs' Day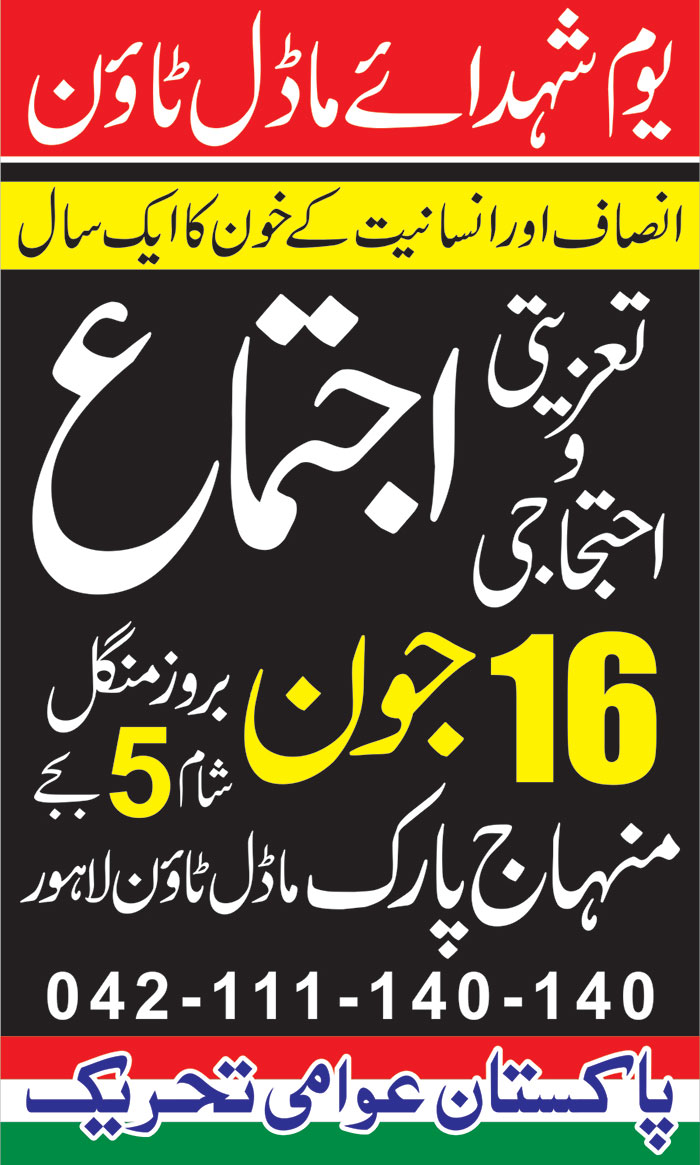 Pakistan Awami Tehreek has announced to observe June 16, 2015 as Martyrs' Day. Condolence meeting will be held on June 16 in the central secretariat of the party to protest the Model Town killings. Invitations have been extended to the heads of all political parties of the country except ruling PML-N. PAT chief Dr Tahir-ul-Qadri will address the protest meeting and announce the next course of action in this regard.
These views were expressed by PAT President Dr Raheeq Ahmad Abbasi while addressing the senior party leaders here at the central secretariat today. Khurram Nawaz Gandapur, Aamir Farid Koreja, Basharat Jaspal, Mushtaq Nonari Advocate, Sohail Raza and others attended the meeting.
Pakistan Awami Tehreek has announced to observe June 16, 2015 as Martyrs' Day. #CruelGovtKillerPolice

— PAT (@PATofficialPK) June 8, 2015
Dr Raheeq Abbasi said that we welcome Imran Khan's announcement to attend the condolence meeting on June 16. He said that the leaders of all political parties have been invited to the meeting. He further stated that the protest and condolence meeting will be attended by the families of martyrs, the injured and the prisoners of revolution. He said that June 16 will mark the completion of one year of the Model Town tragedy. He said that what to speak of dispensation of justice after the passage one year, even the impartial investigation into the heart-rending incident on the FIR of the families has not been launched as yet.
Dr Abbasi said that the Model Town tragedy is the worst incident of state hooliganism and human rights violations, which cannot be swept under the carpet under any circumstance. He said that it is a national tragedy wherein police, a state institution, fired directly at the innocent people killing 14 of them and injuring around 100 more people on that unfortunate day. He said that the Chief Minister refused to release the report of the judicial tribunal he himself set up to probe the Model Town massacre and got a clean-chit through a dummy Joint Investigation Team. He said that the killing of humanity was followed by murder of justice as well. He said that the PAT chief Dr Tahir-ul-Qadri will announce the roadmap to get justice for Model Town victims on June 16.