Opposition parties stage joint demonstration against load-shedding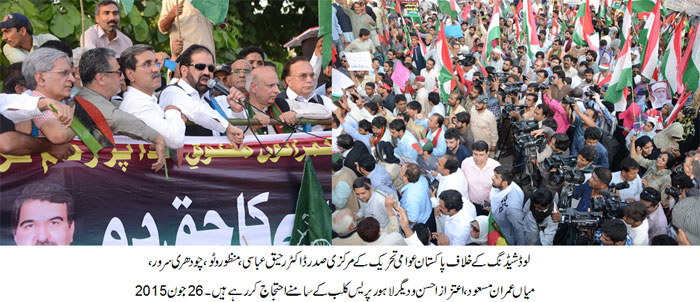 The opposition parties staged a joint demonstration in front of the Lahore Press Club to protest load-shedding on June 26 (Friday). The participants of the demonstration chanted slogans against the government over its failure to manage power crisis in the country. The leaders and workers of Pakistan Awami Tehreek (PAT), Tehreek-i-Insaf (PTI), Pakistan People's Party (PPP), Jamat-e-Islami (JI), Pakistan Muslim League-Q (PML-Q), Majlis-e-Wahdat-ul-Muslimeen (MWM), and Sunni Ittehad Council (SIC) attended the demonstration in large number.
The leaders of the opposition parties held the federal government responsible for deaths of 1300 people in Karachi and demanded its resignation. They said that the nation has got united against the anti-people policies of the rulers, adding that the days of the government in power have started to be counted from June 26 onwards. They asked Shahbaz Sharif to invite suggestions for his new name. The PAT made all the arrangements for the demonstration and played host.
PAT President Dr Raheeq Abbasi, Opposition leader in Punjab Assembly Mian Mahmood-ur-Rashid, PPP Punjab President Mian Manzoor Ahmad Wattoo, JI leader Liaqat Baloch, PML-Q Secretary General Chaudhry Zaheer-ud-Din Ahmad, Makhdoom Ahmad Mahmood, Aitzaz Ahsan, Samina Khalid Ghurki, PAT Secretary General Khurram Nawaz Gandapur, and PTI MNA Shafqat Mahmood addressed the demonstration.
Speaking to the participants, Dr Raheeq Abbasi said that the people have taken to the streets against the killer government having a fake political mandate. He said that after the Model Town tragedy, the rulers are responsible for 1300 deaths in Karachi as well. He said that instead of being ashamed, the rulers are poking fun at the opposition members and cracking jokes. He said that when the people of Lahore and Punjab take to the streets to protest oppression and government excessive, it becomes next to impossible for the rulers to stay in power for long.
Mian Mahmood-ur-Rashid, the Opposition leader in the Punjab Assembly, said in his speech that Khawaja Asif and Abid Sher Ali, the ministers for water and power, should be named and shamed over excessive load-shedding in the country. He said that their faces should be blackened and they should be made to ride donkey. He asked the Sharif brothers as to what became of their promise of ending load-shedding in six months.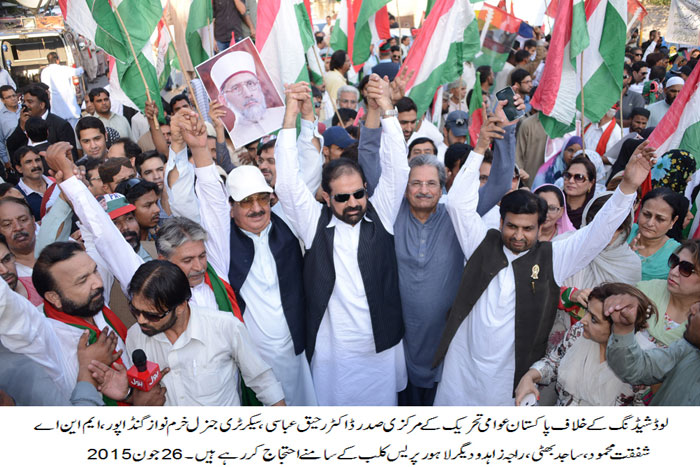 Central leader of JI Liaqat Baloch, while speaking to the demonstration, said that the metro bus project did start but there is no trace of the thing called electricity in the country. He said that we are thankful to Pakistan Awami Tehreek for uniting all opposition parties on an important issue of public importance.
Former Governor and senior PTI leader Chaudhry Muhammad Sarwar said that people's lives are being lost due to incompetence of the rulers. He said that the people would have to get united for their rights. He said that whatever happened in Karachi wherein 1300 people lost their lives due to power crisis is unimaginable in the developed world.
PAT Secretary General Khurram Nawaz Gandapur said that deaths are occurring due to load-shedding and water shortage in Karachi. He said that if the Minister for Water and Power has a bit of honour left, he should immediately tender his resignation. He said that 1300 people lost their lives in Karachi due to power outages, water shortage and heatwave but instead of being ashamed and accepting responsibility, the rulers are audacious enough as to say that they are not responsible for these deaths.
PPP Punjab President Mian Manzoor Ahmad Wattoo said in his speech that 14 people were martyred and 85 others were injured in Model Town in June, 2014 but the Chief Minister claimed ignorance of the heart-rending incident. He said that such a Chief Minister who is unaware of what goes on under his very nose has no right to hold public office. He said that the nation was led astray over the Nandipur power project and the Quaid-e-Azam solar park. He said that the federal government is responsible for deaths in Karachi because the ministry of water and power is the federal ministry. He said that the farmers are being humiliated, adding that the government employees have been given no real relief in budget in terms of pay raise. He said that the good governance of the Sharif brothers has badly been exposed.
PPP leader Chaudhry Aitzaz Ahsan, while expressing his views on the occasion, said that Shahbaz Sharif should place a box in front of his office for inviting suggestions to change his name after his failure to end load-shedding.
Chaudhry Zaheer-ud-Din said that the people wronged by the rulers and afflicted by power outages have taken to the streets against the rulers. He said that these rulers are now guests of a few more days as they cannot stand public wrath. He said that PML-Q stands with all opposition parties on matters of public importance.
The PAT workers arrived in front the Lahore Press Club first of all in the form of groups and processions. They were holding banners and placards of Dr Tahir-ul-Qadri's pictures. The workers of other political parties were also holding their party flags and banners to protest load-shedding.
Jawad Hamid, Ayesha Shabbir, Mazhar Alvi, Sajid Bhatti, Hafiz Ghulam Farid, Jahan Ara Wattoo, and Sardar Ghazanfar Advocate also spoke on the occasion.