Model Town carnage was planned in Islamabad: Dr Tahir-ul-Qadri
Vows struggle for justice for Model Town martyrs will continue
14 martyrs and the 85 injured of Model Town still await justice
Justice is not administered but sold in Pakistan
Media and people are our JIT who witnessed carnage for 12 hours
Why was session of Parliament not called to deliberate on 1500 deaths in Karachi?
Those who have dead conscience opt for deals. We are daring rulers.
Addresses press conference in front of his residence on return from London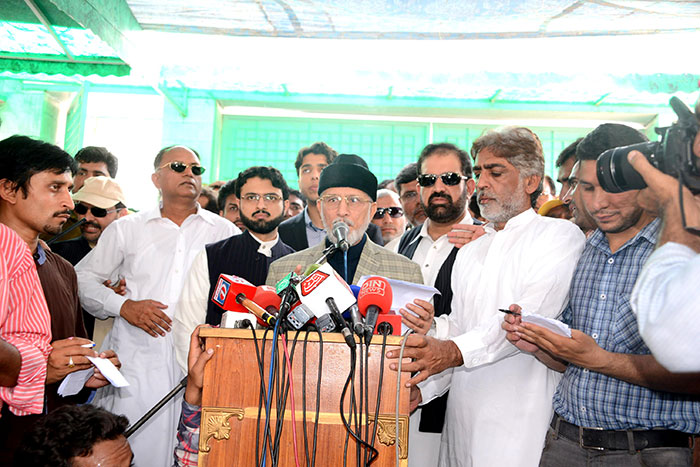 Addressing the heavily crowded press conference after reaching Lahore from London, PAT Chairman Dr Muhammad Tahir-ul-Qadri has said that the plan of Model Town carnage was conceived in Islamabad. He said that Nawaz Sharif and Shahbaz Sharif are the chief architects of this plan, adding that we would not give up on our struggle till we send the killers to gallows. Drawing attention of the military commanders, heads of security institutions and Pakistan Rangers, he said that 14 innocent people, who were martyred on June 17 last year in Lahore, still await justice. He said that the nation has rejected report of the JIT constituted by the killers. He said that our JIT are people of Pakistan and media that witnessed the massacre for 12 hours live on that unfortunate day. He, however, made it clear that we would certainly join the investigation under a JIT which is independent of influence of the current rulers. He said that it has been proven that the Police committed massacre, adding what the JIT has to determine is the authority who ordered the killings. He said that the meeting with Imran Khan is not scheduled but added in the same breath that there is no harm in meeting him.
Dr Hassan Mohi-ud-Din Qadri, Dr Raheeq Ahmad Abbasi, Khurram Nawaz Gandapur, Amir Farid Koreja, Brig. (r ) Mushtaq Ahmad, Bashrat Jaspal, Fayaz Warriach and other senior leaders were also present on the occasion.
Dr Tahir-ul-Qadri said that he has no differences with the Chaudhry brothers. He said that those who clinch deals have dead conscience and are constrained to speak the truth. He said that we are daring the oppressive rulers and exposing them. He said that anyone who has any proof and details of the alleged deal should place it before the nation. He said that conscience-less rulers do not have the courage to face us.
Earlier, thousands of the workers thronged the Lahore Airport to accord a warm welcome to their leader on arrival. Dr Qadri reached his residence from the airport in four hours in a caravan of cars, and motorbikes. The hundreds of youth of MSM and MYL escorted his car as a security detail. The route of journey was decorated with welcoming banners. The workers could be seen dancing to the tune of party anthems to express their happiness on the arrival of their beloved leader in the country. The Lahore airport reverberated with slogans of 'Go Nawaz Go' from 6:00 am to 8:00 am. The hundreds of women belonging to Minhaj Women League were also present at the airport to receive their leader. The female workers threw rose petals on Dr Tahir-ul-Qadri when he reached his residence and continued to chant the anthem of 'welcome, welcome'.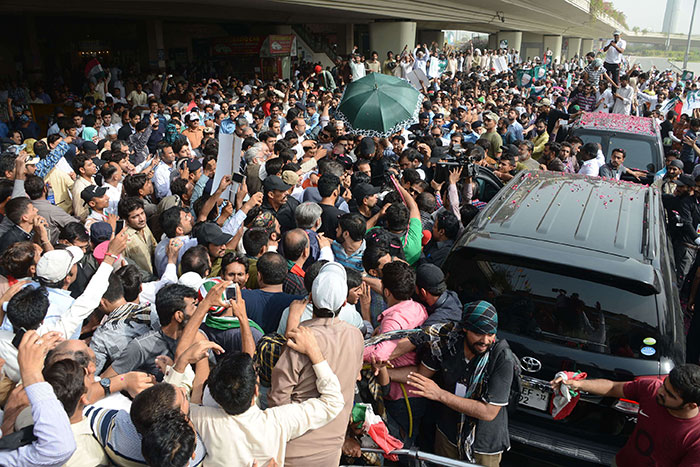 Dr Tahir-ul-Qadri, while commenting on situation in Karachi, said that 1500 people died in the provincial metropolis, whereas both the federal and provincial governments are trading allegations and shifting responsibility on to each other. He said that the fact remains that both governments are responsible for deaths of innocent people in Karachi. He said that the people are dying due to load-shedding and water shortage, saying that such incompetent rulers of Islamabad and Karachi should have tendered resignation by now. He said that there is no democracy in the county and only a clique of plunderers is busy in robbing this country of its resources. He said that this powerful group of so-called democrats has held the whole nation hostage. He said that the country would be rid of such blood-sucking elements only when the people would take to the streets for their rights.
Dr Tahir-ul-Qadri said that Parliament of the country has failed miserably in responding to aspirations of people and resolving their problems. He said that the longest running session of Parliament in history was held during the sit-ins in which the participants of the sit-in were castigated, abused and condemned. He asked why Parliament did not summon its session to deliberate on the situation prevailing in Karachi in the background of 1500 deaths.
The PAT chief said that even the coming generations of the oppressive rulers having the dirty wealth will not be able to put a price tag on the loyalty of our poor workers. He said that our poor workers proved by rejecting lucrative offers of millions of rupees by the rulers that they are poor but not conscience-less, adding that he is proud of his workers who are incarnation of patience, unflinching loyalty, commitment and steadfastness. He thanked those coming to receive him despite fasting and intense heat, saying that their zeal and zest has freshened him despite long air travel.
Dr Tahir-ul-Qadri said that the perpetrators of Model Town tragedy will be brought to justice, come what may. He said that it does not happen in the world anywhere that the killers become the investigators themselves. He said that it is unfortunate that the killers assume the role of a jury here and rob the poor people of justice. Addressing the rulers by name, he said that they should know that they are the killers of PAT workers and he would not rest till he sends them to gallows as per law of the land. He said that Shahbaz Sharif himself established a judicial commission and when the report of his liking did not come, he refused to accept it and has been sitting on it for so many months. So much so he instigated efforts to get the commission declared as illegal.
Dr Qadri said that the Police kill on the desires of the rulers and it is for this reason that both rulers and police cover up each other's crimes. He said that the poor cannot get justice in a country where state is involved in killing people. He asked those busy in purging Karachi of criminals and target killers as to when they will launch operation in Punjab. He said that blood of innocent people has been shed here and oppression has reached its climax. He said that the police have got a license to kill, wondering as to why justice system and other institutions are silent on the government's excesses. He said that justice is not administered but sold in the country. He said had police officials in Model Town tragedy been meted out exemplary punishment, Daska and Rawalpindi tragedies would not have taken place. He said that he is afraid that the oppressive and corrupt rulers may push the people to such a point where they may start questioning the very establishment of Pakistan. He said that when the poor are deprived of basic facilities such as education, health, justice, employment, such a situation generates despondency and reaction.