May Allah purge Pakistan of terrorism & radicalism! Dr Tahir-ul-Qadri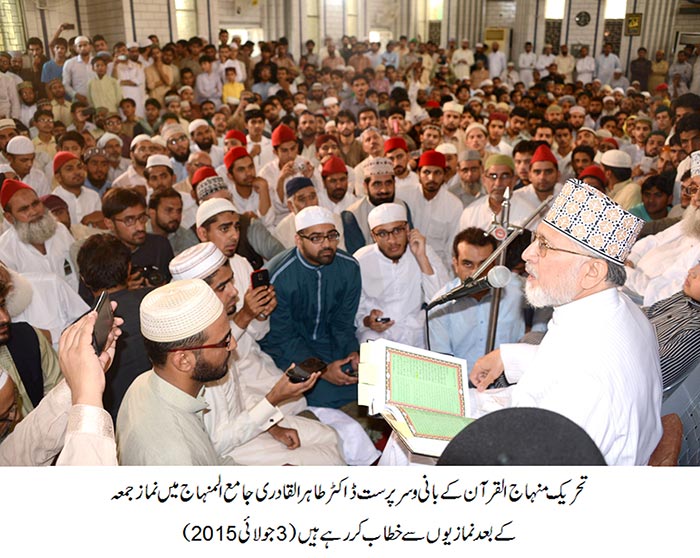 Dr Muhammad Tahir-ul-Qadri, the founding leader and patron-in-chief of Minhaj-ul-Quran International, offered his Friday prayers in the central Mosque Minhaj-ul-Quran in Model Town. After the prayers, he briefly spoke to the members and associates of MQI, office bearers and the hundreds of the faithful who gathered there for prayer.
Dr Tahir-ul-Qadri said that a group of youths has come to Lahore to attend annual Itikaf with a view to develop understanding of the faith. He introduced the youths to the people. He further told them that he would be speaking exhaustively on the subjects of 'faith and conviction' during the last ten days of the holy month of Ramazan. He asked the people of Pakistan to spare time during these blessed days, adding that they should join the Itikaf city to understand the essence of the faith.
Dr Qadri further stated that the whole Islamic world in general and Pakistan in particular are confronted with the twin menace of terrorism and radicalism. He prayed to Allah Almighty to purge Pakistan of scourge of terrorism, militancy and extremism and make the educated and courageous youth work for lifting the banner of Islam. He said that sum and substance of the Islamic faith and essence of our 'Iman' is our love of the Holy Prophet (SAW). He said that every faithful who is regular in saying his prayers five times a day and abides by other commandments will enter paradise but those who will achieve nearness to Allah Almighty will be the lovers of the Holy Prophet (SAW) and saints. He said that these are the blessed people who would have the honour of seeing their Lord every morning and evening. He further said that the faces of these pious and chosen people will be brighter than those of other residents of paradise.
Dr Tahir-ul-Qadri said that fasting is a rare opportunity to achieve purification of heart and nearness of Allah Almighty. He said that the faithful should purge their hearts with the blessings of Ramazan. He said that love of the Holy Prophet (SAW) is the soul of all forms of worship.
Allama Irshad Ahmad Saeedi delivered Friday sermon, whereas Sahibzada Faiz-ur-Rehman Durrani made Dua on the occasion. He prayed to Allah Almighty to rest the departed souls of personnel of Pakistan Army who lost their lives in the train accident in Gujranwala. Dr Hassan Mohi-ud-Din Qadri, Dr Hussain Mohi-ud-Din Qadri, Dr Raheeq Ahmad Abbasi, Khurram Nawaz Gandapur, Sheikh Zahid Fayyaz, Ahmad Nawaz Anjum, Qazi Faiz-ul-Islam and a large number of workers and leaders of MQI and PAT offered the Friday prayers in the central Minhaj-ul-Quran Mosque.