Mahfil-e-Mushaira in Minhaj University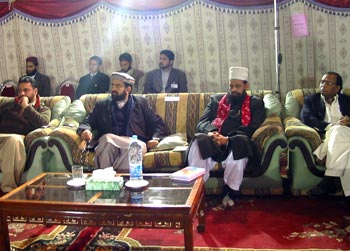 Translated by: Amanat Ali Chaudhary
On the fifth day of weekly celebrations held under the auspicious of Bazm-e-Minhaj (Minhaj University), a grand Mahfil-e-Mushaira was organized. The moot was presided over by Principal Dr Raheeq Ahmad Abbasi, while Khawaja Ghulam Qutab-ud-Din Faridi was the guest of honour at the occasion. The special guests present at the occasion included Naib Nazim-e-Ala Sheikh Zahid Fayyaz, the renowned anchor of Geo TV and senior journalist Sohail Warriach, Vice Captain of Pakistan Cricket Team Misbah-ul-Haq, Fast Bowler Shahid Nazir, Dr Masood Muhjahid and prominent poet and executive producer PTV Iftikhar Majjaz.
Those from among the central leadership of MQI who were also preset included Nazim Media Dr Shahid Mahmood, Sajid Mahmood Bhatti, Muhammad Farooq Rana, Prof Atiq Haider, Muhammad Akram Qadri, Mian Muhammad Abbas, Prof Zahoorullah Qadri, Sayed Iftikhar Ahmad, Muhammad Waheed Qadri, Manzoor-ul-Hassan, Shahid Raza and the President of Bazm Muhammad Asif Qadri.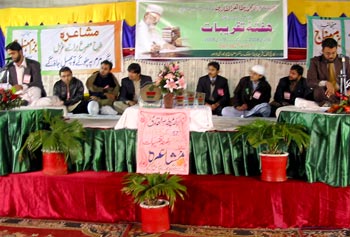 The proceedings of the Mahfil got underway with the recitation from the Holy Quran followed by Naat. The students from different educational institutions and universities of Pakistan participated in the Mahfil-e-Mushaira. They expressed their views in the form of poetry in a beautiful manner. Prominent poet Prof Zafar-ul-Haq Chishti, Muhammad Zia Nayyar and Muhammad Muneer Qasim served as jury. The chief judge Prof Zafar-ul-Haq Chishti announced the results. Shahid Bilal of Hailey College (Punjab University), Adnan Mohsin of G.C. University and Zaheer Baber of M.A.O. College got first, second and third positions respectively.
After the results, Sohail Warriach said Minhaj-ul-Quran is his home. He said I never felt that I was out of home whenever I visited Minhaj-ul-Quran. Shaykh-ul-Islam Dr Muhammad Tahir-ul-Qadri always expressed his love for me. He said that he clearly recalled the days some 23 years ago when I got associated with Minhaj-ul-Quran and this association is intact even today. He said there is a need to popularize the vision of Islam given by Shaykh-ul-Islam Dr Muhammad Tahir-ul-Qadri. He said that he found the reflection of his thoughts and ideas in the students undergoing education at this university.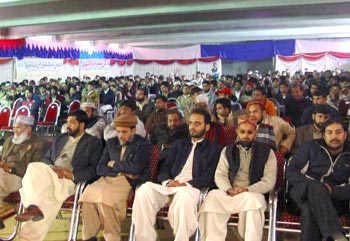 Mr. Iftikhar Majjaz said that his participation in the moot reminded him of 1970s when such meetings were the order of the day. Afterwards this tradition got eclipsed. The students of Minhaj-ul-Quran, by holding this Mahfil, not only revived the tradition but also gave it an innovative touch. Such meetings provide intellectual longevity.
The vice captain of Pakistan Cricket team, Misbah-ul-Haq, said that he also recalled the days of his childhood through his participation in the moot here when he would also take active part in such meetings along with his friends. He said poetry and cricket were different things. Cricket was outdoor game, while poetry was indoor one. However balance was the common characteristic among the both. Only that person can advance in both who maintained balance and composure. The presence of moderation and balance was of utmost importance in our lives. Otherwise man cannot progress in any field. He said that Shaykh-ul-Islam Dr Muhammad Tahir-ul-Qadri has spread the true message of Islam through his speeches and actions. He is no doubt one of the greatest men of the world.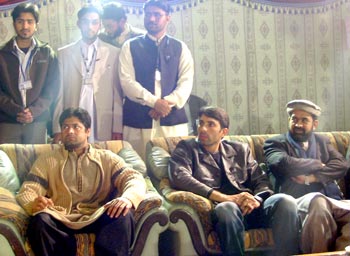 Khawaja Ghulam Qutab-ud-Din Faridi said that he has visited Minhaj-ul-Quran many a time and that his participation in the programme was a matter of immense pleasure. He said the only words he could express were that efforts of Dr Tahir-ul-Qadri in diverse fields of life were matchless. He loves all without any discrimination. The conduct of such meetings has become very rare. Minhaj-ul-Quran has also revived the tradition in this field.
Expressing his special thanks at the occasion, Principal Dr Raheeq Ahmad Abbasi said that the doors of Minhaj-ul-Quran were open for people of all shades and opinions. We are leading the movement for spread of awareness along with our efforts for general welfare. This Mahfil-e-Mushahaira is also a link in the same chain.
The respected guests distributed the prizes among the position holders. The President of Bazm extended his special thanks to the guests and participants. At the conclusion of the programme, Principal Dr Raheeq Ahmad Abbasi gave away gifts of "Irfan-ul-Quran' to the guests.