CM reminded of cabinet meeting on law & order only after martyrdom of the minister: PAT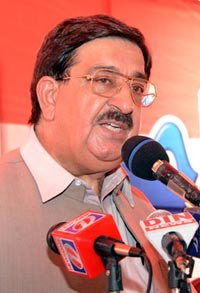 PAT Secretary General Khurram Nawaz Gandapur has said that it is after the martyrdom of Home Minister Punjab Shuja Khanzada that the Punjab Chief Minister has thought of convening a meeting of the provincial cabinet on the law and order in the province. He said that the people are really anxious that how a government, which failed to protect its ministers, will protect them. He asked the Punjab Chief Minister to apprise the masses about how many meeting were held on the law and order in the last two years.
Khurram Nawaz Gandapur expressed these views on his arrival after his organizational tour from abroad. Senior PAT leaders Basharat Jaspal, Fayyaz Warriach, Mushtaq Nonari Advocate, M Noorullah, and Sajid Bhatti called on him in his office. The current political situation came under discussion during the meeting.
The PAT Secretary General said that the Sharif brothers assign priority to their own protection. He said that more than 2000 police officials are deployed for the protection of the ruling family in Lahore alone. He said that all bullet proof cars owned by the Punjab Government are under the use of the members of the ruling family. He said that had this level of security been provided to the Home Minister who was responsible for implementation on the National Action Plan, many of the precious lives could have been saved.
Talking about the Kasur child abuse scandal, Khurram Nawaz Gandapur said that lack of trust expressed by the people of Kasur in the government's Joint Investigation Team is proof of the fact that these are not merely the opposition parties but also the masses that do not trust the political police of the Punjab province. He said that there is not even a single subordinate institution of the government which can evoke trust and confidence of the people. He demanded the withdrawal of the cases registered against affected protesters who carried out protest in the backdrop of the child sexual abuse scandal in Kasur, further saying that strict disciplinary action should be taken against the police officers who registered false cases against the protesters.
Speaking on the occasion, Basharat Jaspal hoped that the new Chief Justice of Pakistan will play his effective role in ensuring the implementation of the decisions regarding local government elections. He said that refusal to hold LG polls represents violation of the Constitution. He further hoped that the new Chief Justice of Supreme Court will also play his constitutional and legal role in providing justice to the oppressed in such incidents as Kasur child abuse scandal involving violation of fundamental rights.