PAT considering to challenge phase-wise LG polls in court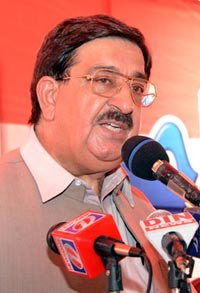 PAT Secretary General Khurram Nawaz Gandapur has said that Pakistan Awami Tehreek rejects the conduct of the LG polls in phases. He said that the idea of a phase-wise election is highly ludicrous to begin with. He said that there is a method to madness and the announcement of holding elections in this manner appears to be part of the government's rigging plan. He said that if the elections to the national and provincial legislatures can be held in one day, why not the LG polls? He said that the ruling party wants to hold the elections in phases in order to set the trend of victory. He said that the PML-N is employing tactics with a view to making sure that LG elections are not held on time.
Khurram Nawaz Gandapur expressed these views while addressing the hurriedly called meeting of the central Core Committee of the party in the central secretariat yesterday. The committee's members Brig. (r) Mushtaq Ahmad, Amir Farid Koreja, Bashrat Jaspal, Fayyaz Warriach, Makhdoom Nadim Hashmi, M. Noorullah, Maj. (r) Muhammad Saeed, Sajid Mahmood Bhatti and others were also present on the occasion.
The PAT Secretary General said that the government has already snatched from the minorities, youth, women and labourers the right to direct election and violated Article 140-A of the Constitution by issuing the LG Ordinance, a matter the PAT has already challenged in the Lahore High Court. He said that the party is holding deliberations to challenge phase-wise elections as well. He said that an important meeting has been convened in which matters relating to the seat adjustment with the like-minded parties will be discussed. The meeting will also appreciate the decisions of the honourable Supreme Court in connection with the holding of LG polls.
Khurram Nawaz Gandapur asked the party activists to accelerate the preparation of the LG polls, adding that the PAT will achieve significant success in the elections. He demanded that after the announcement of the election schedule, the funds of local governments should be frozen and the ban should be placed on the introduction of new schemes. He said that the ministers should be stopped from visiting districts and the transfers and posting of the officials should be banned. He said that the party will also write to the Chief Election Commissioner to apprise him of the anti-constitutional steps of the Punjab government. He said that a PAT delegation under the leadership of the Secretary General will call on the Chief Election Commissioner on August 24 and convey its apprehensions to him.