PAT Secretary General calls on Chief Election Commissioner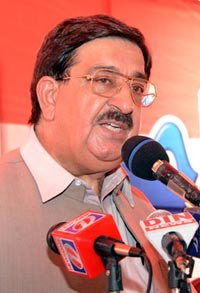 PAT Secretary General Khurram Nawaz Gandapur called on the Chief Election Commissioner Justice (r) Sardar Raza Khan in his office yesterday. He requested the Chief Election Commissioner (CEC) to restrain the Punjab and Sindh governments from using the funds of local governments and that the ban should be placed on the visits of the chief ministers and ministers and the launching of new development schemes in districts where local government elections are going to be held.
The PAT Secretary General also expressed his serious apprehensions in front of the CEC regarding indirect elections of the youth, minorities, labour and women and said that it was repugnant to the Constitution of Pakistan. He informed the CEC that the PAT has challenged the said Ordinance issued by the Punjab government in the Lahore High Court and the Election Commission should present its opinion to the Lahore High Court.
Khurram Nawaz Gandapur further said that the democratic process is affected adversely when electoral complaints are not addressed and settled within the stipulated time. He said that in addition to wastage of time of Tribunals and courts, the contending parties have also to bear heavy expenditures.
According to the central PAT media cell, the Chief Election Commissioner, while talking on the occasion, said that the Election Commission always welcomes the proposals from the political parties aimed at improving the electoral process. He further said that the complaints and apprehensions are addressed according to the law and the Constitution. He said that the ECP will continue to make its performance better in the light of the suggestions of the political parties.