PAT to hold peaceful public meeting at D-chowk on August 30 in memory of martyrs: Khurram Nawaz Gandapur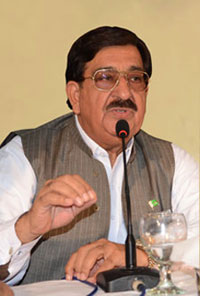 PAT Secretary General Khurram Nawaz Gandapur has said that peaceful public meeting will be held at the D-Chowk in every case on August 30. He said that the thousands of the people will attend the peaceful protest demonstration to pay homage to the martyrs of Model Town tragedy and revolution march Islamabad. He said that we guarantee the peaceful conduct of the public meeting, adding that if any hurdles were created then the government would be responsible for the consequences. He said that there is a need to stand up for one's rights today. He said that we would not yield nor would we give up on our demand for justice for the martyrs.
The PAT Secretary General said that Dr Tahir-ul-Qadri is waging the war for the rights of downtrodden sections of society. He said that our peaceful struggle is for enforcement of the system of the state of Madina. He asked the people to join Dr Qadri in his struggle for saving the state. He said that the people of Islamabad and Rawalpindi will, on August 30, give the message to the rulers by taking to streets in large numbers that their sun of power can set any day. He said that Mustafvi revolution will become destiny of this nation.
Khurram Nawaz Gandapur expressed these views while talking to the heads of administrative committees at the central secretariat set up in connection with the arrangements of the public meeting on August 30. Brig. (r) Mushtaq Ahmad, Jawad Hamid, Sajid Bhatti, Ibrar Raza Advocate, Usman Butt, Ghulam Ali, Umar Riaz Abbasi, Qazi Shafique, Ghulam Mustafa and others were present on the occasion.
Khurram Nawaz Gandapur said that the blood of martyrs of revolution march and the Model Town tragedy will not go in vain. He said that no one can save the killers from punishment. He said that we would take 'Qisas', not 'Dayyat'. He said that the families of martyrs are our pride, adding that the sacrifices of the injured and martyrs cannot be forgotten at any point in time. He said that the people are deeply dismayed over the present state of affairs due to flawed policies of the government.
The PAT Secretary General said that the rulers have not given the masses anything except disappointment, poverty and destitution. He said that the people are committing suicides and compelled to live a miserable life, whereas the ruling elite, indifferent to what the masses are facing is busy in playing political gimmicks aimed at saving power. He said that it is Dr Tahir-ul-Qadri's dream to devolve the powers to the grassroots by creating 35 provinces of Pakistan on the pattern of 14 provinces of the state of Madina.