PAT asks Allama Sajid Mir to furnish details & proof of his claims regarding blood money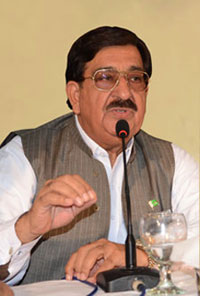 PAT Secretary General Khurram Nawaz Gandapur has said that we consider those who raise false and baseless allegation of accepting blood money of Model Town martyrs and those who accept this money as the most degraded people in the universe. He said that they were not our workers but sons and daughters who got martyred on June 17, adding that we have given a pledge to get 'Qisas' for the sacred blood of martyrs.
Khurram Nawaz Gandapur expressed these views in response to his strong reaction to the statement of Senator Sajid Mir in which he made a false allegation regarding payment of blood money. He said that being a religious scholar, Sajid Mir knows that killers pay the blood money to the rightful and legal heirs after they confess to their crime. He asked Allama Mir to tell as to who of the killers gave how much blood money to whom? He said that he is now bound morally, legally and religiously to place all details on record regarding the deal, adding that we give him three days' time in this regard.
The PAT Secretary General demanded of Allama Sajid Mir to tell the nation about his real identity, as to which sect, religious or political party he belongs because his mother party has already disassociated itself from him. He said that he claims to be the President of central Jumiat Ahl-e-Hadith but gets elected to the Senate on the PML-N ticket. He further said that Allama Sajid Mir tops the list of those getting foreign funding, adding that he would now have to tell as to how much funding he received from which country and for which objectives was it spent and where is its record? He further demanded that the accounts of Allama Sajid Mir and his close relatives should also be checked.
Khurram Nawaz Gandapur said that if Sajid Mir has given the statement regarding the blood money solely on the basis on hearsay, then this allegation falls in the category of slander and excessive buttering of the rulers of the time from whom he got ticket to get elected to the Senate. He further said that Allama Sajid Mir understands quite well as to what is the punishment for a liar who makes baseless allegations. He said that PAT Chairman Dr Muhammad Tahir-ul-Qadri had stated publically eight months ago in his response to speculations regarding blood money that whosoever has the proof should bring it to the surface and get a prize of Rs. 50 million. He asked as to why Allama Sajid Mir is not coming to get this prize money?