PAT asks ECP to use services of army if it is helpless before rigging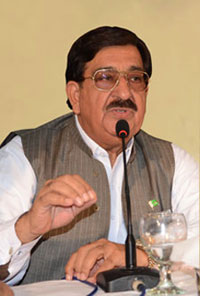 Pakistan Awami Tehreek (PAT) has written a letter to the Chief Election Commissioner in which it has maintained that the Punjab government is using the funds of billions of rupees as pre-poll rigging to influence the upcoming local bodies elections. It said that this conduct of the government is violative of the law, rules and regulations and the code of conduct. He said that the Punjab government approved the projects of Rs. 37 billion on September 15, which is part of strategy to influence the electoral results of the local government polls. The PAT maintained that if the Punjab government is not ready to accept the Election Commission's code of conduct and electoral laws, then the ECP should get its orders implemented through the army.
Khurram Nawaz Gandapur said that the people have lost their confidence in democracy due to rigging and fraudulent practices. He said that if the Election Commission did not take strict notice of the government's use of influence and money in the local government elections, then the people's ire will be directed at the ECP. He said that the opposition parties are protesting pre-poll rigging of the ruling party but the ECP does not seem to be bothered. He said that the opposition candidates are being harassed through police, adding that they were stopped from submitting their candidature papers and now they are being forced to take them back.
The PAT Secretary General said that the DPO Okara applied his direct pressure to make sure that the brother of current IGP, Ijaz Sukhera, was returned unopposed from Qila Deedar Singh Union Council of Haveli Lakha. He said that if the PML-N has to win the local bodies elections through pressure, money and duress, then the ECP should issue a certificate of the unopposed victory of its candidates so that money and time of the people of the province are not wasted. He said that the PML-N has introduced a democratic culture based on rigging which resulted in destruction of democratic institutions and the people's right to vote was badly encroached upon. He warned that if the people's mandate was hijacked in the upcoming local government elections, it would result in the dangerous backlash.