PAT establishes a cell for collection of proofs of rulers' corruption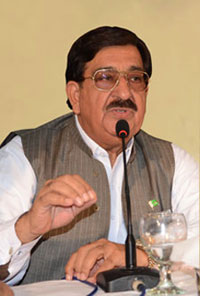 Pakistan Awami Tehreek (PAT) has set up a special cell to gather the proofs of the rulers' corruption on the instructions of Dr Muhammad Tahir-ul-Qadri. The services of former FIA employees, retired officers of Planning and Development and Finance Department and investigative journalists will be hired for this purpose. The cell, which will work under the supervision of central Core Committee, will consist of Khurram Nawaz Gandapur, Muhammad Saeed Rajput, Hanif Mustafvi, Brig. (r) Mushtaq Ahmad, Fayyaz Warraich, Basharat Jaspal, SM Zameer, Makhdoom Nadeem Hashmi, and Noorullah Siddiqui. A panel of lawyers led by Ishtiaq Ahmad Chaudhry has also been constituted for provision of legal advice to the cell.
Speaking on the occasion, Khurram Nawaz Gandapur said that if the economic terrorists hiding in government, political and religious circles were not exposed, the nation will be deprived of fruits of the Operation Zarb-e-Azb. He said that every patriotic citizen will have to play his/her role in exposing the economic supporters of terrorists and those plundering the national exchequer. He said that if the process of accountability was left at the mercy of the politicians, then corrupt will come out of the institutions of accountability by making victory signs.
Sharing the details about establishment of cell meant to gather evidence and proof of corruption, he said that we invited proposals from the youth on social media in regard to elimination of corruption during the current month. He said that more than one hundred thousand youths proposed capital punishment for those found guilty of having committed corruption. He said that if at all any need was felt to stage a long march against corruption, the PAT will be ahead of all other parties.
Khurram Nawaz Gandapur said that we appeal to every Pakistani citizen that if he/she has any proof or information about corruption, he/she should write a letter to the PAT central secretariat, adding that the name of the informer will be kept confidential. He further said that people can also contact on the telephone numbers of the central secretariat in this regard. He said that corruption and Pakistan and corruption and democracy cannot work together nor will the nation let such an arrangement to continue anymore.