PPP urged to included Model Town tragedy in its agitation plan: Khurram Nawaz Gandapur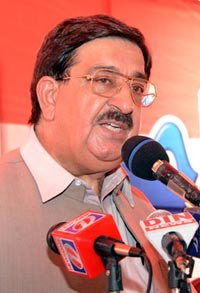 If Pakistan People's Party (PPP) is serious in becoming a real opposition, then it should include the Model Town tragedy in its agitation plan and play its parliamentary role in getting the justice administered to the families of 14 martyrs and 85 injured people.
PAT Secretary General expressed these views while addressing a party meeting held to discuss upcoming the local government elections at the central secretariat yesterday. Basharat Jaspla, Mushtaq Nonari Advocate, Raja Zahid, and Altaf Randhawa attended the meeting.
Khurram Nawaz Gandapur said that oppression was committed on June 17, 2014 in Model Town. He said that every citizen will have to play his role to get justice for those wronged at the hands of the government. He warned that if we failed in discharge of this basic responsibility, then the people will continue to be subjected to violence for political ends. He said that the Model Town tragedy is a sore point for the rulers and when anyone mentions it, its echo goes deep down into their hearts disturbing their sleep.
The PAT Secretary General further said that we request all the opposition parties not to mention the Model Town tragedy for their political interests, rather they should stand with the affected families in true spirit and demand justice for them. He said that the former President Asif Zardari talked about the Model Town tragedy after the passage of one year hinting at the need for administration of justice. He said that we were happy to hear the former President speaking so but added in the same breath that the PPP, the political party of martyrs, should be more forthcoming in practical terms.