Rabi ul Awal Welcome, MWL Lahore : Demonstrating love for spiritual excellence in life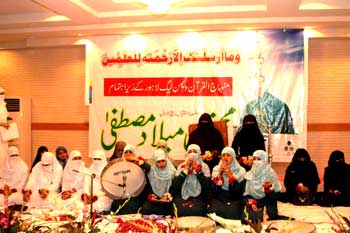 Minhaj ul Qur'an Women League Lahore welcomed Rabi ul Awal in a very beautiful way by arranging a special mehfil. It was arranged on 8th March 2008 at Qasr-e-Zauq banquet hall Gulburg. Thousand of women from all over Lahore were present in this mehfil.
The proceedings of programme were formally launched by recitation from Holy Qur'an by Tayyaba Nawaz from Minhaj College for women. Minhaj Naat councils Lahore and Shabina Majida (Naat Khawan Qtv) paid special salutations to Holy Prophet PBUH and made that mehfil really beautiful. Mrs. Ayesha Shabir ( President Lahore) presented welcoming address and said that Huzoor Sheikh ul Islam Dr. Mohammad Tahir ul Qadri is the person who told us how to celebrate Mawlid un Nabi saw.
Mrs. Qurat ul A'in Fatima presided the programme and Qurat ul A'in Ayesha was the chief guest. Qurat ul A'in Fatima Baji delivered special speech on different aspects of personality of Holy Prophet PBUH. She said that the birth of Holy Prophet PBUH is the biggest happiness of this world. Holy Prophet's personality is the pivot of Islam. Each and every one should celebrate His birth more charm fully and this will create our great connection with Huzoor saw.