PAT asks PM to implement Kisan package within one week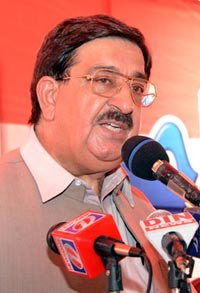 PAT Secretary General Khurram Nawaz Gandapur, Central Punjab President Bashrat Aziz Jaspal and South Punjab President Fayyaz Warraich have asked the Prime Minister to ensure the implementation of his Kisan Package of Rs. 341 billion in a week, adding that in case of failure, he should be ready to face strong backlash from the farmers' community. The PAT leaders claimed that the PM would not let the package be implemented by 2018. They said that the ruling PML-N was defeated on a provincial seat in the first by-election after the construction of metro bus project and the so-called performance of the Punjab Chief Minister got exposed.
Khurram Nawaz Gandapur said that we pay homage to the people of NA-122 for standing up to all manner of pressure and merciless use of the government machinery. He said that the electoral outcome has shaken the foundation of the PML-N's rule. He said that the PAT withdrew its candidate Ishtiaq Chaudhry for PP-147 in favour of the PTI candidate Shoaib Siddiqui who defeated the PML-N candidate.
Bashrat Jaspal said that those who ran away from Lodhran were defeated in Lahore and Okara. He said that it is not the PML-N but the Election Commission, Patwaris, SHOs and the government machinery that won in NA-122 with marginal difference.
Fayyaz Warraich said that the farmers from across the country are focused on the Kisan package announced by the Prime Minister. He said that the ban of the ECP has expired now and there is no need to go to the court of law for lifting of ban. He said that the Prime Minister should fulfill all the promises he made with the people while launching Kisan package.