ECP disappoints the nation again: PAT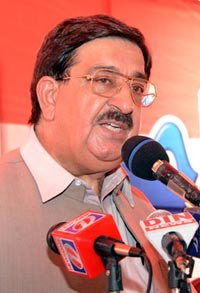 PAT Secretary General Khurram Nawaz Gandapur, Secretary Information Khurram Nawaz Gandapur and Ishtiaq Chaudhry Advocate have said in a joint statement that the Election Commission has disappointed the nation yet again. They said that high public office holders such as the Prime Minister, and Chief Minister took part in electoral campaign for the PML-N candidate for NA-122 but the Election Commission was not moved into action despite written complaints. They said that the viewpoint of PAT Chairman Dr Tahir-ul-Qadri regarding constitutional composition of the ECP has proven to be true once again.
The PAT leaders said that the political forces struggling for elimination of dynastic politics in the country will have to launch decisive struggle for formation of new ECP in accordance with the constitutional requirements. They said that the government functionaries belonging to various departments of the government took part in election campaign. They said that the raids which were conducted by the Punjab Food Authority on restaurant selling adulterated food were stopped forthwith with a view to getting their votes.
They said that Khawaja Saad Rafique threatened the railways employees to snatch their official quarters in case they did not vote for the PMLN candidate. They said that in the same way, the personnel of the excise departments threatened to send tax notices to the shop keepers who refused to hang the banners of the official candidate in front of their shops. They further said that the official vehicles were used to transport the voters with changed number plates. They said that the PAT ran an effective campaign in favour of the PTI candidates.