Dr. Hassan Mohi-ud-Din Qadri holds interactive session with COSIS students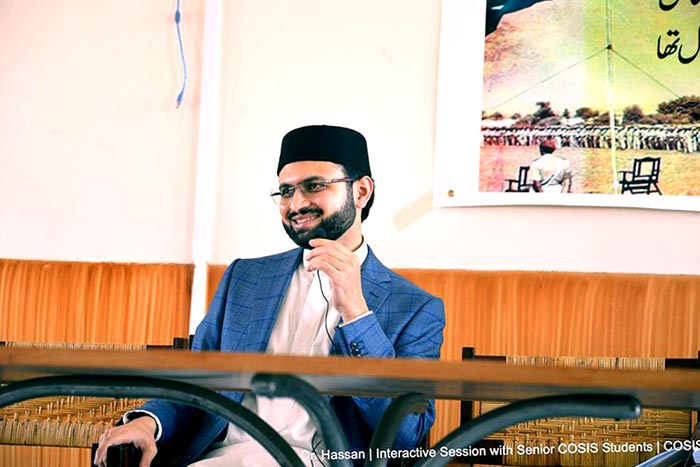 Dr. Hassan Mohi-ud-Din Qadri, the chairman of MQI Supreme Council, met with the senior students of COSIS at the college campus. This was an interactive session in which students shared their thoughts and views about various issues. Dr. Hassan delivered a motivational talk and addressed the students concerns and dilated upon other related matters.
In his special talk, Dr. Hassan Mohi-ud-Din Qadri, who is supervisor of COSIS as well, said that the upcoming Majlis al Ilm lecture series by Shaykh-ul-Islam Dr. Muhammad Tahir-ul-Qadri will be highly beneficial for those who have a desire to seek knowledge. He said that the students should attend the lecture series to fully benefit from it. He said that the age we are living is defined by vexed questions that have been agitating the minds of the modern generation. He said that contemporary challenges require employment of research, critical inquiry and out of box thinking to address the reservations of the youth. He said that Dr Qadri, in his new lecture series, will take up these subjects.
Dr. Hassan further stated that the PAT Chairman intended to start the lecture series primarily for the students of the COSIS. He said that it was however felt later on that given their overall benefit and utility, others should also be included in them. He said that this lecture series will get underway from October 17.
The Supreme Council Chairman said that a student of knowledge is only successful if he learns to sacrifice the luxuries of life and bears the hardships to achieve the aim. He then motivated the students by quoting examples from his personal life as a student on how he gained and acquired knowledge in various parts of the world and what he went through during the process of mastering different branches of Islamic Sciences.
Dr. Hassan Mohi-ud-Din Qadri also shared his plans regarding career counselling of students of COSIS and how the college will impart them training in respective fields. The students also shared their views frankly. Dr. Hassan responded to their questions. The session ended by collective Dua.
After the session, Dr Hassan Mohi-ud-Din Qadri joined the senior students at a collective lunch. The students used this as an opportunity to have frank and informal chat with him. They sought his advice about career development. He was also forthcoming with his advice. The students appreciated the initiative of Dr Hassan Mohi-ud-Din Qadri to have interactive session with them. They said that such meetings should take place regularly as they found them to be hugely beneficial. The Chairman of Supreme Council promised to have regular meetings with the students.