Time to act upon teachings of Imam Hussain (RA) is now: Dr Hassan Mohi-ud-Din Qadri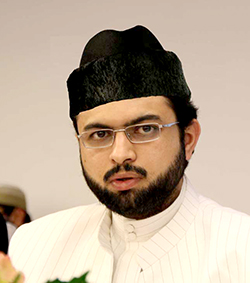 Dr Hassan Mohi-ud-Din Qadri, Chairman of the Supreme Council, has said that MQI has been spreading the message of love, unity and brotherhood in the world. He said that supporting the oppressed is 'Hussainiat' and spreading mischief and sectarianism is 'Yazidyat'. He said that creating unity in the ranks of Muslims is national responsibility of the religious scholars and a dire need of the hour. He said that message coming out from plains of Karbala is to stand up to the oppressors with conviction.
Dr Hassan Mohi-ud-Din Qadri expressed these views while addressing a programme held in connection with the holy month of Muharram under the banner of Minhaj-ul-Quran Ulama Council. Khurram Nawaz Gandapur, Ahmad Nawaz Anjum, Sardar Shakir Mazari, Allama Rana Muhammad Idrees, Allama Syed Farhat Hussain Shah, Allama Mir Asif Akbar, Engineer Rafique Najam, Mian Ansar Mahood and Ahmad Hassan were present on the occasion.
Talking about the holy month of Muharram, Dr Hassan Mohi-ud-Din Qadri said that adoption of Hussaini thought and ideals can make Pakistan hub of peace and a real fortress of Islam in the world. He said that the religious scholars should rise to the occasion and play their role in promoting inter-sect harmony. He said that being arrayed against dishonest, incompetent and morally depraved rulers is the Sunna of Imam Hussain (RA), for Yazid was an incompetent and morally delinquent ruler who had the gall of violating the sanctity of the Holy Quran and the teachings of the Holy Prophet (SAW) for vested interests and perpetuation of his power. He said that it was Hazrat Imam Hussain (RA) who stood up to safeguard the sanctity of Islam against the Yazidi onslaught.
The Chairman of Supreme Council said that the revered Imam and his companions suffered great trials and tribulations in the plains of Karbala. They embraced martyrdom but did not submit themselves to oppressive and morally depraved rulers. He said that Pakistan is passing through dark times of history and there is a need of acting upon the teachings of Imam Hussain to protect it from internal and external challenges. He said that Islam is a natural religion, which endows on every human being the right to practice one's belief and religious teachings with complete freedom. He said that there is a need to promote the values of brotherhood, tolerance, moderation and restraint in society. He said that it is important to make sure that no enemy of peace is able to harm the sense of unity, and harmony amongst us. He asked the religious scholars and Mashaykh to work in unison to spread love and harmony as demand of the time.