Punjab Law Minister also mastermind of Model Town tragedy: PAT Spokesperson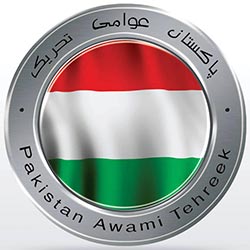 In his strong reaction to the confessional statement of one accused Naveed, the killer of Bhola Gujjar, in which he confessed to have killed him on direction of Rana Sanaullah, a Spokesperson of Pakistan Awami Tehreek has said that the provincial Law Minister is the mastermind of the Model Town tragedy and the killer of 14 innocent people as well and that he is the principal accused nominated in an FIR lodged by heirs of the martyrs. He said that a province whose Law Minister happens to be patron of killers, its Chief Minister should have no right to make claims regarding good governance and hold on to public office anymore.
The PAT Spokesperson demanded that after the confession of the accused, the Law Minister should be sacked and included in the investigation process for Model Town and other killings. He said that the real Gullu Butt of Punjab is Rana Sanaullah who enjoys complete patronage of his political masters. He said that it is misfortune of the province that one such minister is holding the portfolio of law and controlling the police department. He said that all eyes are on the Chief Justice and the Army Chief as to what action they take against the minister in the light of National Action Plan after this confession.