PAT to restore prestige & honour of local government institutions: Dr Hassan Mohi-ud-Din Qadri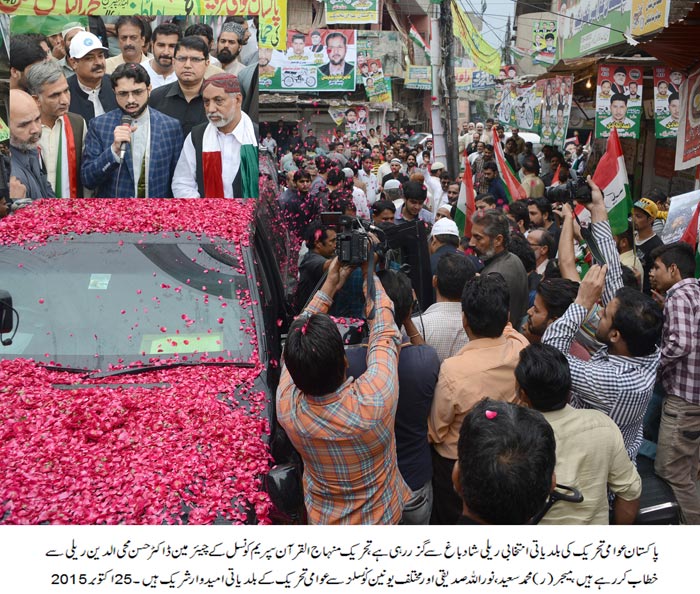 The PAT candidates taking part in local bodies polls took out a motorcycle rally from Kot Khawaja Saeed to Jallo More yesterday. Addressing the rally, Dr Hassan Mohi-ud-Din Qadri, Chairman of MQI Supreme Council, said that with what face are those who kept the local government institutions under lock and key for seven long years knocking at the doors of the people and asking them to vote for them? He said that had the Supreme Court not ruled in favour of holding local bodies polls, the present government would have bulldozed the local government institutions what to speak of getting the elections conducted. He said that the PAT candidates will restore the honour and prestige of local government institutions and deliver justice and development at the doorstep of the people.
The hundreds of motorcyclists took part in the rally from Kot Khawaja Saeed to Jallo More. They were chanting slogans in favour of revolution and Dr Tahir-ul-Qadri. A very warm welcome was extended to Dr Hassan Mohi-ud-Din Qadri along the route. The people showered rose petals on him as he stopped by to speak to them. Muhammad Umar, Abdul Khaliq, Shafqat Mughal, Haji Ashraf, Abdul Hameed Khan, Qari Shabbir, Malik Javed Awan and Emmanuel Masih and others attended the rally from various union councils.
Haji Salah-ud-Din Sultani and Bashrat Ali, PAT candidates for chairman and vice chairman's slots, gave a warm welcome to Dr Hassan and hundreds of participants of the rally and hosted luncheon in their honour.
Speaking on the occasion, Major (r) Muhammad Saeed said that the PAT is waging a struggle to eliminate corruption, unemployment, poverty and terrorism from the country. He asked the people to use the power of ballot to stop the corrupt lot from coming to power. He appealed to the people of Lahore to put their stamp on the electoral sign of 'motorcycle' to cleanse the local government institutions of Lahore from corruption and mismanagement.
Irshad Tahir, Hafiz Ghulam Farid and others also addressed the rally.