PAT writes to ECP over violation of electoral laws in Punjab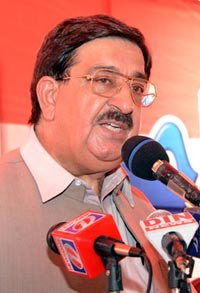 PAT Secretary General Khurram Nawaz Gandapur has written a letter to the Chief Election Commissioner for the third time over the Punjab Government's continuous violation of electoral laws. He said that release of Rs. 10 billion in development package two days ahead of local bodies polls is a joke with the electoral laws and a manifest pre-poll rigging. He said that whenever we write a letter to the ECP requesting it to take notice of the illegal actions of the government, the latter has the gall to indulge in even more lawlessness. He said that silence of the ECP on all of these matters is a point of concern.
Khurram Nawaz Gandapur said that the rulers of Punjab are spending public money mercilessly to get the results of their liking in the local government polls and the ECP has chosen to turn a blind eye to these violations like before. He said that the police is harassing the candidates of the opposition parties in cahoots with the PML-N's candidates. He said that opposition candidates are being stopped from carrying out their electoral campaign and false cases are being registered against them.
The PAT Secretary General further said that the rogues of the PML-N have made life miserable for PAT candidate of vice chairmanship Ibrar Hussain in Mangoowal, Gujrat as they are hurling life threats at him and his family for contesting elections. They, he said, are coercing him to withdraw his candidature in favour of the PML-N's candidate. He said that we have reported the matter to Punjab police many a time but it is not ready to be moved. He said that conversely speaking, the local police is threatening to register false cases against the PAT candidate. He said that there appears to be no respite from the police heavy handedness.
Khurram Nawaz Gandapur said that after the Kisan package, the Punjab Government is distributing political patronage and favours in the name of development funds, a matter we are bringing to the notice of the ECP as per rules. He asked the ECP authorities to take notice of violation of electoral laws by the federal and provincial governments of PML-N and stop the ruling party from hijacking the mandate of the people on the basis of state resources.