PM was with oppressors on occasion of Model Town tragedy: PAT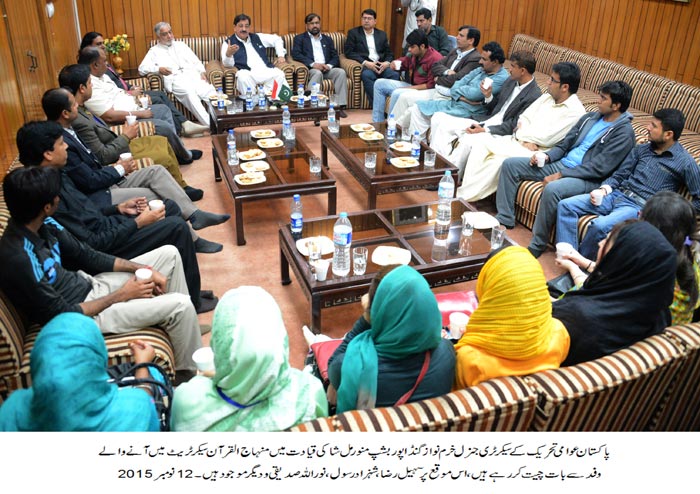 In his reaction to the Prime Minister's claim that he would side with the oppressed Hindu against oppressor Muslim, PAT Secretary General Khurram Nawaz Gandpaur has said that the PM and his whole machinery stood by the oppressors on June 17, 2014 against the oppressed and the weak in Model town tragedy and despite passage of one and half years, the children and families of the martyrs await justice. He said that the rulers cannot fool the people anymore through their meaningless statements and hollow claims. He said that major incidents of violation of rights of the minorities took place during the incumbency of the PML-N government.
The PAT Secretary General expressed these views while talking to a delegation of the civil society and faith leaders that called on him in the central secretariat yesterday. The interfaith delegation, which was led by Munawar Shah and Samson Salamat visited the MQI secretariat on the invitation of Sohail Ahmad Raza and Shahzad Rasool Qadri. The members of the delegation consisted of research fellows of Centre for Human Rights Education from across the four provinces. The delegation was briefed about Model town tragedy and Islamic Curriculum on Peace and Counter-Terrorism.
Speaking on the occasion, Khurram Nawaz Gandapur said that we are of the considered opinion that if the Constitution of Pakistan is implemented in letter and spirit, oppression and exploitation of every kind can end today. He said that these are not merely majority poor Muslims but the members of the minority communities as well who are suffering tremendously at the hands of exploitative and oppressive system. He said that Dr Tahir-ul-Qadri's revolution march was for 190 million people of Pakistan, adding that our struggle for restoration of rights of the masses continues unabated even today. He said that we would not rest till we empower the minorities and vulnerable sections of Pakistan in accordance with the rights enshrined in the Constitution of Pakistan.
Khurram Nawaz Gandapur said that the Constitution guarantees of delivery of education, justice and employment to every citizen of the state. It regards minorities as equal citizens but the business of the state is run on the basis of likes and dislikes. He said that had the PM been truthful in his claim of siding with the oppressed Hindu, he would not have stood by Gullu Butts on the fateful day of June 17. He said that lies, hypocrisy, and lust for power and money have made this land captivity for the poor and the underprivileged. He said that minorities were maltreated during the tenures of the current party and examples abound to prove this.
Bishop Munawar appreciate the services of Dr Tahir-ul-Qadri for welfare of humanity and promotion of interfaith dialogue and harmony in the world.