PAT asks government six questions on economy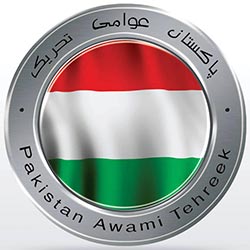 Pakistan Awami Tehreek (PAT) has written a letter to the Federal Finance Ministry in which it has claimed that the national exchequer suffered a staggering loss of 386.42 billion rupees due to direct orders of the Prime Minister, which, the party said, is a matter of record. The letter also described the Prime Minister's claim of saving Rs. 110 billion in power sector projects as ludicrous and asked the PM to answer six questions.
The letter written by PAT Secretary General Khurram Nawaz Gandapur has raised six questions namely:
When the PM took up office, the cost of under-construction Neelum-Jhelum Hydropower Project was Rs. 272 billion in 2013. Why did its PC-1 cost shoot up to Rs. 410 billion with an escalation of Rs. 110 billion now?
On assuming power, the PM ordered the payment of Rs. 480 billion to Independent Power Producers (IPPs) by way of clearance of circular debts. Later on, the audit report revealed that an amount of Rs. 190 billion was wrongly paid to the IPPs. Who is responsible for mega scandal of additional payment of Rs. 190 billion?
At the time of assumption of power by the PM, the estimated cost of 425-MW Nandipur Power Project was Rs. 37 billion, why did its cost register an increase of Rs. 17 billion to get to present Rs. 54 billion mark?
The loan of 500 million dollars was taken on the agreement of an interest of $410 million on the orders of the PM, which caused a loss of Rs. 420 million to the exchequer. Why was a loan of $500 taken despite availability of $20 billion in foreign reserves?
The IPPs were paid Rs. 32 million as a fine on the desire of the PM, whereas a fine of Rs. 22 billion imposed on the IPPs by the government was forgiven straightaway. Why?
Why was the IPPs paid Rs. 18 billion on photocopy bills without pre-audit?
Khurram Nawaz Gandapur said that these facts and figures are part of the official reports and record of the Auditor General of Pakistan. He said that these are merely a few instances of corruption, whereas a large number of such incidents involving wrong payments, unnecessary expenditure and loss to national exchequer have become part of record. He said that such revelations will continue to be made from time to time. He said that Pakistan is heading towards a dangerous economic crisis due to bad governance, financial mismanagement and corruption. He asked the Finance Ministry to answer these questions within a week, failing which the party has the right to knock at the doors of court of law against the said corruption.