Norway delegation visits central secretariat of MQI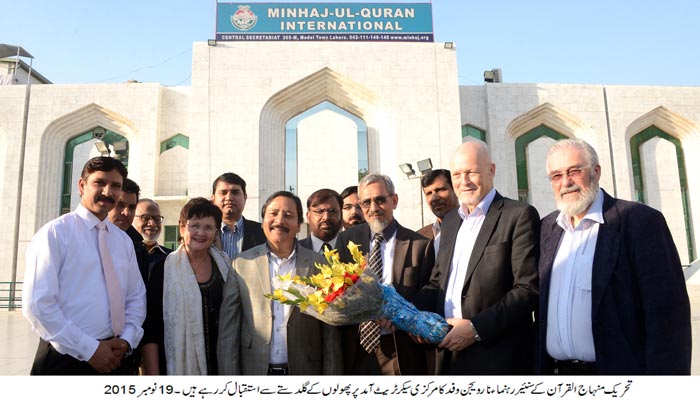 A delegation of Norway led by Dr Barekay, head of Church of Stavanger Norway, visited the central secretariat of MQI on the invitation of Directorate of Interfaith Relations. Director Foreign Affairs GM Malik, Sohail Ahmad Raza, Shahzad Rasool Qadri, Noorullah Saddiqi, Tayyab Zia and others received the delegation warmly. The delegation visited various directorates of the central secretariat.
In the meeting, the MQI leaders condemned the incidents of terrorism in Paris and expressed their sympathies for the bereaved families. They underlined the need of concerted action. The head of Norway delegation asserted that Islam is a peaceful religion and those bringing its teachings into disrepute are not only the enemies of Islam but also of humanity.
The delegation was briefed about MQI and Dr Tahir-ul-Qadri's efforts for promotion of interfaith dialogue and harmony in the world. The members of the delegation took interest in Fatwa against terrorism and Islamic Curriculum on Peace and Counter-Terrorism. Sohail Ahmad Raza thanked the delegation for visiting the secretariat.