Students of Minhaj University visit the shrine of Allama Muhammad Iqbal (RA)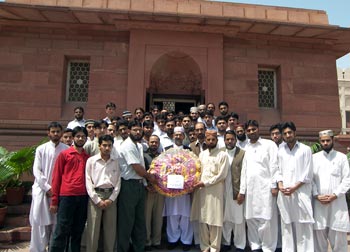 Translated by: Amanat Ali Chaudhary
On behalf of Chairman Board of Governors of Minhaj University, Shaykh-ul-Islam Dr Muhammad Tahir-ul-Qadri, a delegation of its students led by Deputy Registrar G.M. Malik visited the shrine of the poet of East Dr Allama Muhammad Iqbal (RA) on the occasion of his 70th death anniversary. The delegation also comprised of central leaders of Pakistan Awami Tehreek namely Deputy Secretary Sohail Ahmad Raza, Deputy Director Protocol to Shaykh-ul-Islam Dr Muhammad Tahir-ul-Qadri, Imtiaz Ahmad Awan, Deputy Director Foreign Affairs Shakeel Ahmad Tahir, Protocol Officer DFA Rana Muhammad Nafees, Nadeem Ahmad Awan and others. Later on grandson of Allama Iqbal, Muhammad Muneeb Iqbal, Chairman of Nazria Pakistan Trust and prominent journalist, Majeed Nizami, former Vice Chancellor Punjab University Dr Muhammad Rafeeq, Prof Muhammad Muzaffar Mirza, Prof Dr Sarfraz Hussain Mirza, President of Central Iqbal Association Justice (r) Sardar Muhammad Doager joined the delegation. The members of delegation from COSIS included Prof Abbas Naqisbandi, Rana Muhammad Ikram, President Bazm-e-Minhaj Khurram Shahzad, Mumtaz Shakir Sabri, Hafeez Kiyani and other students.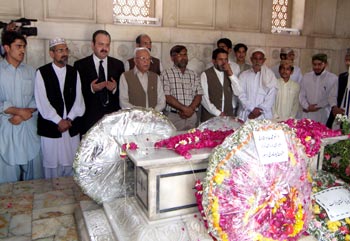 The delegation of Minhaj University laid the wreath of flowers on the grave of Allama Iqbal (RA) on behalf of the Chief Executive of Minhaj University Shaykh-ul-Islam Dr Muhammad Tahir-ul-Qadri. A special meeting was also arranged at this occasion where the students recited the 'Kalam' of Allama Iqbal (RA). Talking to media at this occasion Deputy Registrar G.M. Malik said that the passion for freedom which Allama Muhammad Iqbal ignited is still existent in the Pakistani nation today. It is the person of Allama Iqbal to whom we as a nation owe our freedom and achievements.

He said the students of Minhaj University visited his shrine that day to pay him tribute for his services in the cause of Islam and Pakistan. He also said we resolved to leave no stone unturned to translate Iqbal's dream into reality. Dr Muhammad Tahir-ul-Qadri has called Allama Iqbal 'guide and mentor'. Allama Iqbal  (RA) has derived his thought from the holy Quran, the Holy Prophet (saw) and his spiritual mentor Maula e Roum. He said Allama Iqbal (RA) saw a dream, which the Quaid-e-Azam Muhammad Ali Jinnah turned into reality but its accomplishment still remains to be achieved for which Shaykh-ul-Islam Dr Muhammad Tahir-ul-Qadri was making strenuous efforts. At the end of the programme, Principal Secretary to Shaykh-ul-Islam G.M. led the prayers.
Interview by GM Malik to GEO TV at Shrine of Dr Allama IQbal
Interview by GM Malik to Sima TV at Shrine of Allama IQbal
Naat by Shakeel Ahmad Tahir at Shrine of Dr Allama IQbal
Kalam e Iqbal by Student Minhaj University at Shrine of Dr Allama Iqbal