Speech contest under the Minhaj Speakers Forum of COSIS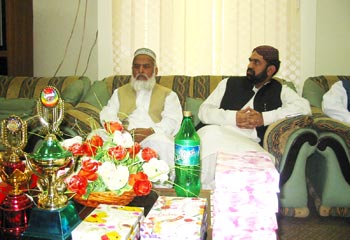 Reported by: M S Pakistani
Translated by: Amanat Ali Chaudhary
A speech competition was organized under the banner of Minhaj Speakers Forum of COSIS (Minhaj University) a few days ago. Three different topics were prescribed for this competition namely "Responsibilities of Muslim Umma and protection of sanctity and status of the Prophethood", "Role of Youth in the challenges faced by Pakistan" and "Human Society and Minhaj-ul-Quran International". The speakers representing different Houses took part and delivered speeches on these topics.

Principal COSIS Dr Raheeq Ahmad Abbasi chaired the programme. Director DFA G.M. Malik, Dr Muhammad Arshad Naqshbandi, Dr Masood Mujahid, Prof Zahoorullah Al-Azhari, Muhammad Alyas Azami, Sayed Iftikhar Shah, Ateeq Haider, Shabeer Ahmad Jami, Rana Muhammad Akram Qadri, Sabir Hussain Naqashbandi, Faizullah Baghdadi, Hafiz Muhammad Owais, Muhammad Mumtaz Shakir, Khurram Shahzad, Hafiz Ghazanfer Hussain and Muhammad Abu Baker were among the prominent guests at the occasion.
Presenting the performance report of the Minhaj Speakers Forum, its President Muhammad Hafeez Tahiri said that the purpose of the Forum was to awaken the latent and potential qualities of speech-making among the students. The Forum has also established its sub-branches for this purpose in which students are properly trained.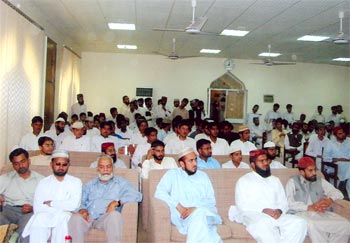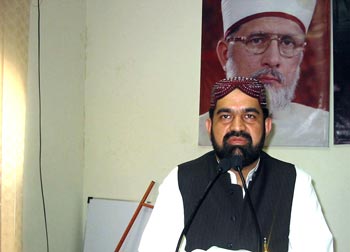 The speakers delivered speeches on different topics with arguments. They brought the point home that the practical participation of students and youth for progress and prosperity of the nation was highly important and without this involvement, the dream of development will remain merely pipedream. Regarding the protection of sanctity and status of the Prophethood, the students said that our response to such efforts should be firm but at the same time we have to take care that we do not play into the hands of people who are bent upon bringing a bad name to Islam by egging us to indulge in vandalism.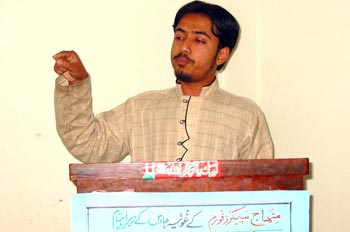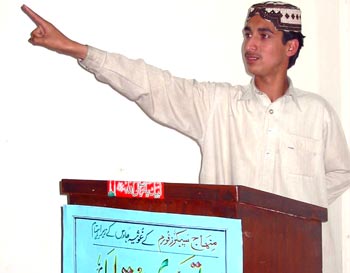 According to results of speech competition, Mudassar Hussain of Tahiri House, Muhammad Asif Watto of Haidri House and Muhammad Tahseen Shah of Ghousia House got first, second and third positions respectively. Three students were awarded special prizes. In addition to this, every participant in the speech contest was given medal. The Jury of the contest consisted of Muhammad Afzal Qadri and Muhammad Waseem of FMRI and Prof Manzoor-ul-Hassan of COSIS. Mubasher Hussain Kazami conducted the proceedings of the programme. Principal COSIS Dr Raheeq Ahmad Abbasi gave away prizes to the position holders. The programme ended on prayers.