Monthly Spiritual Gathering of Gosha-e-Durood - May 2008
Reported by: M S Pakistani
Translated by: Amanat Ali Chaudhary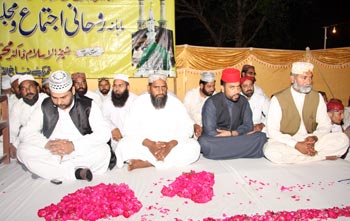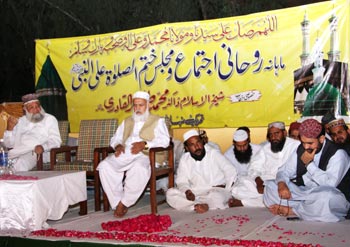 The monthly spiritual gathering of Gosha-e-Durood was held under the banner of Minhaj-ul-Quran International on May 1, 2008. This programme was held in the ground facing the Central Secretariat where beautiful venue was set up. Central Amir-e-Tehreek Miskin Faiz-ur-Rahman Durrani presided over the event, while Nazim-e-Ala Dr Raheeq Ahmad Abbasi, Naib Nazim-e-Ala Sheikh Zahid Fayyaz, Director Foreign Affairs G.M. Malik, Secretary General PAT Anwar Akhtar Advocate, Ahmad Nawaz Anjum, Al-Haaj Muhammad Saleem Qadri, Mufti Abdul Qayyum Hazarvi, Prof Muhammad Nawaz Zafar, Allama Muhammad Idrees Rana, Haji Imdadullah Khan, Allama Muhammad Hussain Aazad, Sajid Mahmood Bhatti, Tanvir Ahmad Khan, Haji Muhammad Riaz, Tauqeer-ul-Hassan Gallani, Prof Zulifqar Ali  and others were among the prominent guests at the occasion. A large number of women were also present in the programme on the invitation of Minhaj-ul-Quran Women League. The participants of Gosha-e-Durood were seated at a specified place at the front of the venue.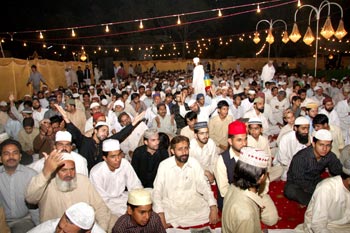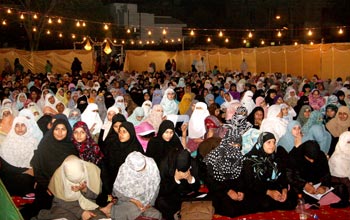 The proceedings of the programme got underway with the recitation of the holy Quran by Abdul Hameed of COSIS and Qari Allah Bakhsh Naqshbandi. Muhammad Afzal Noshahi, Minhaj Naat Council, M Shahzad Aashiq, Shakeel Ahamd Tahir and Muhammad Anser of COSIS presented Naat. Muhammad Afzal Noshahi presented the special Durood-o-Salam of Gosha-e-Durood in the style of Naat. The participants responded back and expressed their emotions by waving their hands.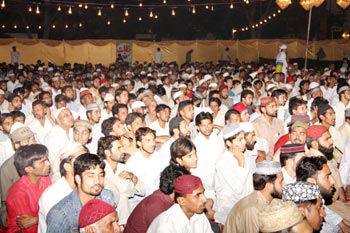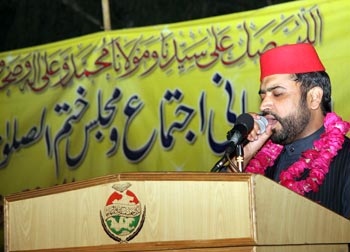 Naat Khawani continued till 11 p.m. at night. Afterwards Allama Ahmad Nawaz Anjum presented the report of Gosha-e-Durood. According to the report, the number of Durood offered during the month of April stood at 150 million, 53 thousand and 18 hundred. Durood offered so far stands at 4 billion, 56 crores, 39 lakh, 71 thousand and 475. He told that by the grace of Almighty, other centres of Gosha-e-Durood have been opened across the world in the branches of MQI and inside Pakistan. Durood-o-Salam was being offered regularly in those centres. It has been two years since Durood is being offered uninterruptedly here. In addition to this, recitation of one Holy Quran is undertaken each night. The credit of all this goes to Shaykh-ul-Islam Dr Muhammad Tahir-ul-Qadri who is working tirelessly to spread the message of love of the Holy Prophet (saw).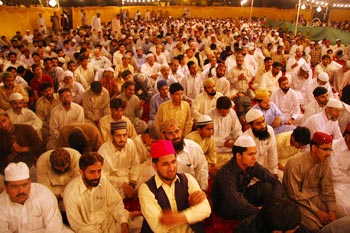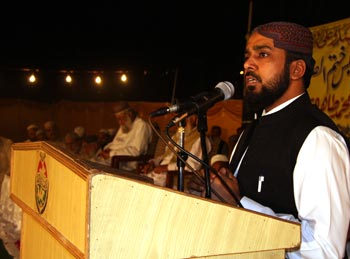 Central Nazim of Directorate of Training, Allama Muhammad Idrees Rana delivered speech at the occasion. He chose the following verses as his subject of discussion.
"Is he who was dead and we have raised him unto life, and set for him a light wherein he walketh among men, as him whose similitude is in utter darkness whence he cannot emerge? Thus is their conduct made fair seeming for the disbelievers."  

He said this verse mentioned five human classes. By the dead is meant the one who is living his physical life but who remains deprived of the Divine gnosis and the Prophetic love (saw). The Holy Quran has branded such people as dumb and deaf.

He said only that person can get blessings of Islam who fully and unhesitatingly enters the fold of Islam with complete conviction and submits himself to Allah's Commandments. Only those people are able to get Divine light who immerse themselves fully in the love of Allah and His Prophet (saw). It can be understood from an example that you do not pour milk in a dirty utensil. In the similar manner, Allah endows His light of guidance in the pious and clean hearts. He referred to a saying of Huzoor Ghous-ul-Azam where the latter said, "I have my foot on the neck of every saint."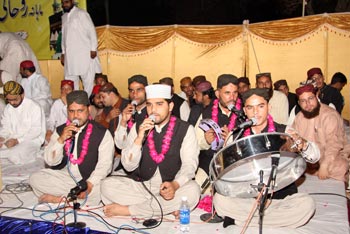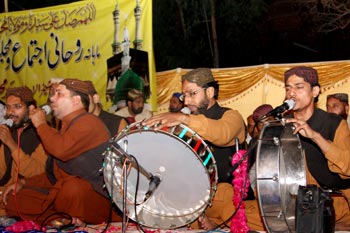 When Hazrat Khawaja Moin-ud-Din Chishti heard this in the jungles of Kharsan, he bent his head in respect and said, "O Ghous-ul-Azam, your foot is not only upon my neck but also on my head." At this, Ghous-ul-Azam said that there was one Friend of Allah who complied with his call and former gave him spiritual rule over Ajmer. Afterwards, Khawaja Moin-ud-Din Chishti also became Ajmari. This is due to his regard for and devotion towards Ghous-ul-Azam that the whole world is drawn to him.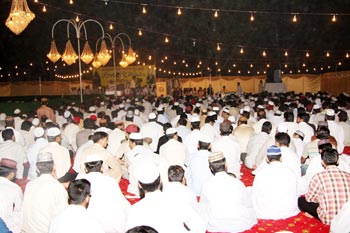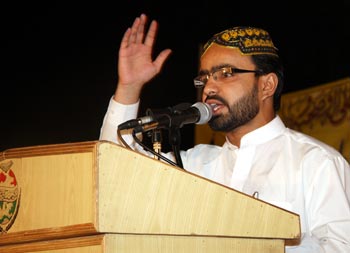 He said there was a need to present Islam on scientific lines today. By the grace of Allah Shaykh-ul-Islam Dr Muhammad Tahir-ul-Qadri has presented Islam and its teachings in such a manner that people were flocking to MQI. MQI also set up Gosha-e-Durood to spread the love of the Holy Prophet (saw). Shaykh-ul-Islam made earnest efforts to persuade people with the result that a large number of people especially the youth are getting attracted to Gosha-e-Durood from inside as well as outside Pakistan. He said we would have to fully benefit from the efforts of Shaykh-ul-Islam and make this world 'hub of peace' through the message of Durood-o-Salam.

After the speech of Rana Muhammad Idress, Shaykh-ul-Islam Dr Muhammad Tahir-ul-Qadri led the concluding prayers. Muhammad Waqas Qadri conducted the proceedings of the programme.