Annual gathering of Milad-un-Nabi (SAW) organized at MCW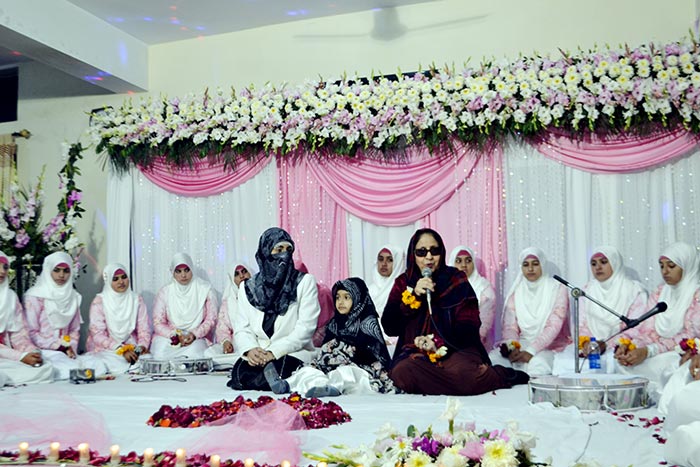 Annual Mehfil-e-Milad-un-Nabi (Peace be upon him) was organized by Islamic Literary Society of Bazm-e-Minhaj on the 18th of December, 2015 at Mustafavi Hall of Minhaj College for Women. The overall in-charge of all committees tasked with organizing the event were Ms. Umme Habiba (In charge Bazm-e-Minhaj) and Ms. Fozia Aziz (Assistant In charge). The preparation was done by Ms Kalsoom Tariq, in charge of Islamic society and Ms. Nida.
This time round, the College was beautifully decorated with models of the Gumbad-e-Khizra and Khana-e-Kaba, which were made by Class BS VII and calligraphy was performed by BS-III. The 'Naalain' (the shoes of the Holy Prophet ﷺ was made by BS-I and camps were designed by BS V.
The proceedings of the spiritual programme got underway by the recitation of the Holy Quran by Fahmida Nasreen. This time four students performed the responsibility of stage secretaryship. Students presented beautiful Nasheeds in Arabic, English and Urdu languages. Great love for Prophet (SAW) was seen during the event. Qasida Burda Sharif in a new style was much appreciated by the participants. Those who had the honour of reciting Naat included Ammara Khalil, Uroosa Anwar, Mahjabeen, Mehwish Shehzadi, Noreen Fatima, Sanoober Saif, Sumayya Islam, abida Shezadi and Hadia Saqib Hashmi. The students of Minhaj College for Women created spiritual environment in this programme and they decorated the college with beautiful models, lighting and hand made presentations.
The chief guest of this beautiful event was Mrs. Fiza Hussain Qadri. The other distinguished guests included members of Minhaj Women League namely Ms. Mudasara, Mrs. Farah fatima, Mrs. Humara Rashid, Mrs. Aysha Mubashar, Mrs. Farida Sajjad and others. The College Principal Dr. Samar Fatima, in her speech, emphasized on the training of students according to the teachings of the Holy Prophet (SAW). Mrs. Fiza Hussain Qadri presented a beautiful Naat in this spiritual gathering. The programme came to an end with Dua by Ms Kalsoom Tariq. At the end, the guests and students were entertained with refreshment.