PAT issues review report on one-year performance of Federal Government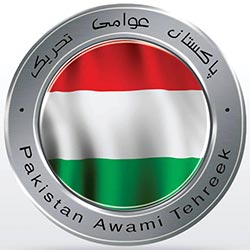 PAT has issued a review report on one-year performance of the federal government. It said that the government failed to achieve four important targets such as National Action Plan, elimination of power outages, reduced reliance on the foreign loans, and provision of relief to the masses.
The report said that allowing the Rangers' operation against economic terrorists to become controversial is the biggest failure of the government on the front of the governance. He said that the country was further pushed down in the debt trap by getting foreign loans of $300 billion and local loans of Rs. 900 billion. Not even a single big fish out of 150 mega corruption scandals was punished under the law. Irregularities were proven in the payment of Rs. 480 billion as circular debt and the responsibility for such a massive financial indiscipline was not fixed on anyone. The duration of load-shedding remained 14 hours per day, whereas gas pressure went further down during the winters. To top it all, gas tariff was hiked by 38%, which increased people's problems.
The report further said that the benefit of relief in prices of POL products was not passed on to the masses. The heirs of martyrs of Model Town were kept deprived of justice in year 2015. $720 million were smuggled out of the country in one year. NAB did announce investigation into alleged corruption of the Punjab Education Minister to the tune of Rs. 20 billion but did not include anyone in the investigation process. Irregularity of $1 billion came to surface in the construction phase of theChina-Pakistan Economic Corridor but no institution took its notice. The government expenditure registered an increase of Rs. 350 billion. Taxes to the tune of Rs. 40 billion were imposed on the people without sanction of Parliament. The national exchequer suffered a loss of $450 million through controversial sale of 500 million Eurobonds.
The review report further said that the government failed to alleviate the sufferings of the IDPs and the farmers' community. The worst instances of rigging were spotted in local government elections. The government appointed a convicted person as the head of PIA which led to economic losses for the national carrier. Shujaat Azeem was removed on the orders of the Supreme Court but the PM appointed him as Convener of the PIA Corporation Limited and thus committed contempt of court. According to the report, more than 500 demonstrations were held by labor unions, workers, political and social circles as a result of privatization policy and anti-workers steps of the government.