Indictments taking place on fake FIR of Government: Khurram Nawaz Gandapur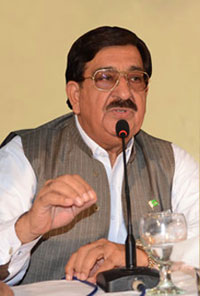 PAT Secretary General Khurram Nawaz Gandapur has said that indictments are being carried out on the basis of fake FIR lodged by the government on the Model Town tragedy. He said that out of six people said to be being indicted, majority of them are the family members of the martyrs and they have nothing to do with the incident.
Khurram Nawaz Gandapur said that the real FIR is the one, which was lodged by heirs of Model Town victims and registered on the orders of the court of law. He said that no movement or progress has taken place on the FIR despite passage of one year.
Naeem-ud-Din Chaudhry Advocate, Ishtiaq Chaudhry Advocate, and Muhammad Nasir Advocate, the senior lawyers of the PAT, said that the Punjab government is trying to brush the Model Town incident under the carpet but added in the same breath that it would not succeed in its designs and justice will have to be meted out. They said that the government wants 'justice' of its liking by including 'unrelated' police officials in the FIR. They demanded of the government to withdraw its FIR and allow the proceedings to start on the FIR lodged by the family members of the martyrs.