Irfan-ul-Quran Course starts under Directorate of Dawat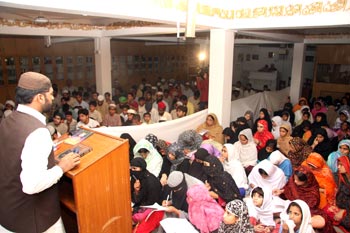 Directorate of Dawat has started Irfan-ul-Quran Course in Lahore Cant on May 5, 2008. Senior Naib Nazim of Directorate of Dawat, Hafiz Muhammad Saeed Raza Baghdadi, is the teacher and convener of the course. About 300 people, both male and female, are participating in this course, which is being organized in the Musftafa Library Hall in Lahore Cant. The daily classes start at 5 pm and continue till 7 pm. Many prominent social and political personalities of the area including Mian Nasir Ahamd MPA and local Ulama, have visited the camp. All visiting guests have appreciated the welfare-oriented efforts of MQI and assured of their full cooperation in this regard. Before the successful organization of this course, Hafiz Saeed Raza has already held many successful courses throughout Lahore. A text book written by him on the above-mentioned subject has already been published.

Directorate of Dawat intends to launch this course worldwide after its successful launch in Pakistan due to importance and utility of this course. Fifty classes have so far taken that course and about 3000 people have benefited from it. The salient features of the course are given here below:
 
Alm-ul-Tajveed (Complete)
Translation of the Holy Quran
Jurisprudence and principles of Jurisprudence
Arabic Grammar
Hadith and Principles of Hadith
Quranic and Prophetic dua

At the end, the participants will be awarded certificates upon the successful completion of the course.