PAT celebrates its 19th Foundation Day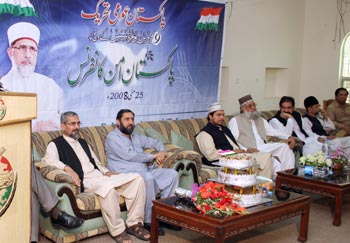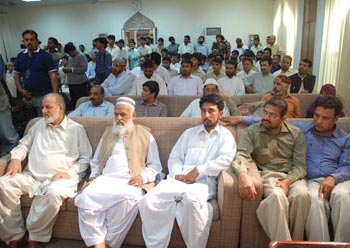 A prestigious ceremony marking the 19th Foundation Day of Pakistan Awami Tehreek was held in the Danish Hall of the party Secretariat on May 19 with its central President Miskin Faiz-ur-Rahman Durrani in the chair. The member of the Supreme Council of MQI, Sahibzada Hussain Mohi-ud-Din Qadri, was the guest of honour at the occasion. Those from among the central leaders of PAT who participated in the ceremony included PAT Secretary General Anwar Akhtar Advocate, Nazim-e-Ala Dr Raheeq Ahmad Abbasi, Chief Coordinator PAT G.M. Malik, Sohail Ahmad Raza, Ali Ghazanfer Kararvi, Abdul Qadir Shaheen, Dr Tanvir Azam Sandhu, Syed Ali Raza Rizvi, Chaudhry Muhammad Sharif, Muhammad Jawad Hamid, Muhammad Ishtiaq Chaudhry and others. The proceedings of the programme got underway with the recitation from the Holy Quran followed by Naat.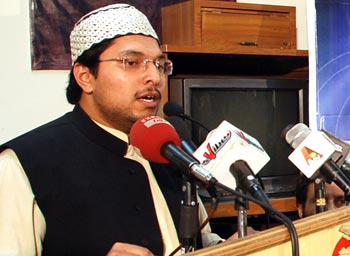 Addressing the meeting, Sahibzada Hussain Mohi-ud-Din Qadri said no system including democracy, socialism and communism was able to reach people in its original form. Those countries where the Islamic system is holding sway, are far from knowing the true Islamic teachings. He said democracy has been used for the material gains of vested interests and people's exchequer has been so mercilessly squandered that masses are finding it next to impossible to make their both ends meet. On the other hand, the ruling elite is busy in its machinations. The situation has resulted in the loss of faith of masses in the so-called leadership. He said whosoever raises the slogan for democracy is looked at with suspicion. Unfortunately the religious leadership of this country also failed to come up to the expectations of people. PAT was fighting against such a cruel political system and we would continue to fight for democracy and human rights.
PAT President, Faiz-ur-Rahman Durrani said that PAT was carrying on its struggle in the system currently in vogue and the PAT would, one day, achieve its purpose of changing the fate of people. He urged the newly elected government to rein in the monster of terrorism in the country so that peace should be able to return to this blighted land and people may start living their normal life.

PAT Secretary General, Anwar Akhtar Advocate, said the country was up against very serious issues and there was a need for collective leadership to play its role to steer it out of these crises. PAT Chairman Dr Muhammad Tahir-ul-Qadri has presented an effective manifesto to bring country out of crisis and the solution to the problems can be found through change of system. There was a dire need of the hour to take people on board on these issues.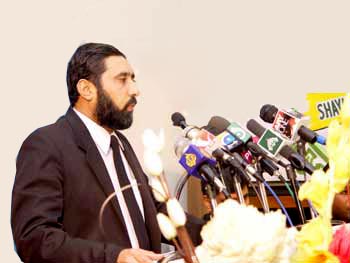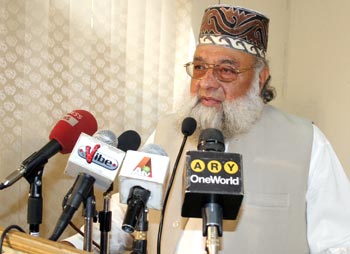 Nazim-e-Ala Dr Raheeq Ahmad said PAT was a revolutionary movement and such movements do not know despair and disappointment. A time would come when no force of the world would be able stop the caravan under the dynamic leadership of Shaykh-ul-Islam Dr Muhammad Tahir-ul-Qadri. He said many difficulties were on the anvil so far as changing the fate of people was concerned and it needed the spread of public awareness. PAT was working at different levels in this regard.

In his talk, G.M. Malik said PAT was a practical political party and its chairman Dr Muhammad Tahir-ul-Qadri set up a healthy tradition by resigning from the National Assembly as a protest against the dictatorship. We would continue to work for the restoration of democracy and progress of people.

Allama Ali Ghazanfer Kararvi said Dr Muhammad Tahir-ul-Qadri always stood by truth but other politicians remained victim of political expediency. That is why the country has been suffering from multiple crises. Chaudhry Muhammad Sharif, Sayed Ali Raza Rizvi, Sohail Ahmad Raza, Hafiz Ghulam Farid, Chaudhry Afzal Gujjar, Naeem-ud-Din Chaudhry, Jawad Hamid and Ishtiaq Chuadhry also spoke at the occasion. The event was attended by workers of PAT in a large number.