Irfan-ul-Quran Center : Workshop for Stability Training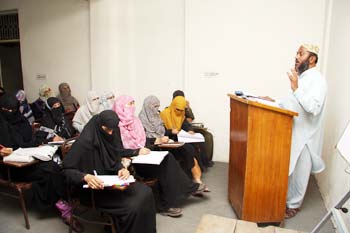 Irfan-ul-Quran Center is an educational & training center for women. Here, women are educated on both spiritual & moral basis and they are given awareness about the knowledge of Sharia. They are also taught Tajweed, Quran, Hadith, Fiqh & Arabic Grammar as well. To make them practical, training workshops are arranged, once is a week, in the conference Hall at the central secretariat.
The purposed of these workshops are as follows:-
Spiritual & moral training of students.
To create theoretical & emotional relation, inculcating stability and sentiment of tolerance and moderation.
To create passion to pursue the moral values.
To motivate people to join Minhaj-ul-Quran International.
To make them (those students who are already member of Tehreek) able enough to be a past of the organization's network.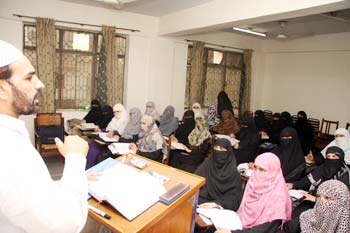 The 1st workshop was held on 24th January 2008. at 3 : 15 pm. Ameer-e-Tehreek Sahibzada Miskeen Faiz-ur-Rahman delivered a comprehensive lecture on "Tasawwur-e-Ibadat" Islam Prof. Dr. Muhammad Tahir-ul-Qadri was played. The third lecture was presented by Nazima Women League Mrs. Farah Naz in which she told the student "How to analyze oneself?"
On 27th February 2008, Ameer-e-Tehreek Sahibzada Miskeen Faiz-ur-Rahman delivered first lecture of the 2nd monthly workshop. In the end, a video cassette of Shaykh-ul-Islam Prof. Dr. Muhammad Tahir-ul-Qadri was displayed.
In the 3rd workshop, which was held on 12th April 2008, Nazim-e-Aala Dr. Raheeq Ahmad Abbasi introduced Tehreek Minhaj-ul-Quran on National & International (revel grounds). Respected Ghulam Murtaza Alvi presented a lecture on importance of membership & companionship. In the end, the remaining video CD of sheikh-ul-Islam Prof. Dr. Muhammad Tahir-ul-Qadri was played.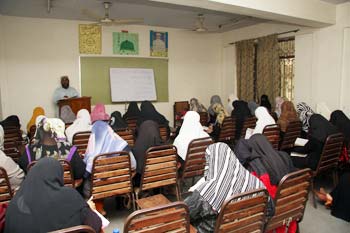 On 30th April 2008 4th workshop was held in which Respected Raazia Shaheen presented the 1st lecture on the Aims of Women League. She said that Minhaj-ul-Quran Women League is not working for any specific class, nation on Ummah rather it is working for all the Muslim Ummah spread all over the world. Respected Sir Tahir Hameed Tanoli introduced different aspects of personality of Quaid e Tehreek Minhaj-ul-Quranj. In the end a documentary of Milad Festival was played.
The fifth & last workshop was held on 21st May 2008. Miss Fareeha Khan gave a meaningful talk. Then Dr. Raheeq Ahmad Abbasi expressed his views about Quran & Sahib-e-Quran. Finally, the workshop ended on video program. A documentary on "the Life of Quaid-e-Inqilab" was displayed.
Thanks to Allah Almighty who gave us a chance to understand the true teachings of The Holy Quran. Join us to grasp the knowledge of "the Holy Quran" & "Sharia". May Allah show us the right path & guide us to follow his beloved Prophet Hadrat Muhammad (PBUH) Ameen!
For further details contact us:
Minhaj-ul-Quran Women Leage
Nizamat-e-Dawat, 365- M-Model Town, Lahore
Ph# 111-140-140
Or visit our website: www.minhajsisters.com