First floor of residential block of Gosha-e-Durood completed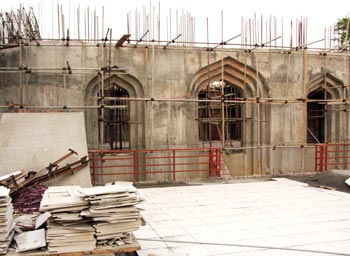 Reported by: M S Pakistani
Translated by: Amanat Ali Chaudhary
The roof of first floor of building in the residential block of Minara-tus-Salam has been completed. The construction of the building being built up beside the central sale centre has been continuing for the last three months. The construction was started with building of the basement in the residential block for the residents of Gosha-e-Durood. Now it has been completed. More than five rooms have been built in the residential block at this stage and other necessary facilities have also been provided. It has taken one month for its completion. The 15-feet high block was constructed from the basement of the first floor and the work was completed with the 'concrete lenter'. After the completion of the roof of the first floor, work has been started on the second floor. The residential block would be having two floors.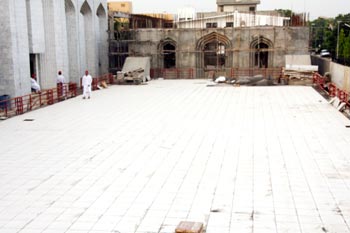 In addition to the construction of the residential block, construction work of Minara-tus-Salam also continues speedily. The wall covering the entire building from all sides was built in the last month. It should be kept in mind that 80-foot high minaret would be constructed from the ground level. Initial work has got underway on it.

The construction of hall in front of the central secretariat is also in the last phase. The work of placing tiles of while marble that started last month has been completed. Decoration of the stairs leading to the hall has also been undertaken. Sunshine-proof glasses were already installed on the ventilation points of the hall. A safety grill has also been put in place along with these glasses.

The work of building of Gosha-e-Durood is being completed under the supervision of professional engineers. People are working day in and day out for the completion of this project. Furthermore, Nazime-e-Ala Dr Raheeq Ahmad Abbasi keeps on supervising the work from time to time.