Meeting of the Board of Governor of the Minhaj University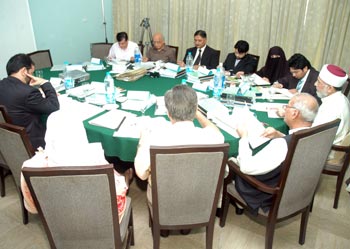 2nd Meeting of the Board of Governor of the Minhaj University was held on Monday on July 2008 at 11:00 am in the Conference Hall at administration block to discuss the agenda already issued.

Shaykh ul Islam Dr. Muhammad Tahir-ul-Qadari Chairman BOG chaired the meeting. Prof Dr. Muhammad Nazir Romani Vice Chancellor, Minhaj Univerity; Mr. Hassan Mohi ud-Din Qadri, President Supreme Council, Minhaj-ul-Quran International; Mr. Hussain Mohi-ud-Din Qadri, Mrs. Ghazala Hassan LLM (LONDON) Member Supreme Council Minhaj ul Quran International, Col. (R) Muhammad Ahmad, Registrar, Minhaj University, Prof. Dr Bilal A. Khan Vice Chancellor, Islamic University Bahwalpur; Mr. Shahzad Alam Chief Executive Unitech Electronics Lahore, Member Higher Education Commission; Prof Humayoun Ihsan Principle Pakistan Law College; Mrs. Shahida Javed, Deputy Secretary Education Department Govt. of the Punjab; Malik Muhammad Aslam Advocate, President Bahawalpur Bar Council; Dr. Raheeq Ahmed Abbasi, Nazim-e-Aala, Minhaj-u-Quran International; and Ch. Muhammad Yaqub,  Controller of Examinations attended the meeting .They all made positive contribution. Chairman introduced all new members to the house.

Confirmation of proceeding of Academic council, Degree format was finally approved budget was approved. Annual Report for 2005-06, 2006-7 was approved and decisions taken by the VC on previous meeting were confirmed. Rules of University Semester System of Examination was discussed in detail and approved. Mega Projects for university were discussed and approved. The meeting concluded with the chairman's  remarks of thanks for members.