Workers' Convention of Minhaj ul Quran International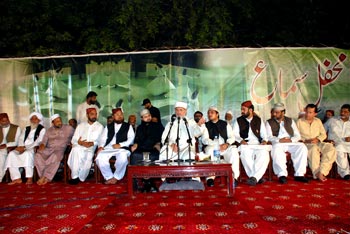 Translated by: Amanat Ali Chaudhary
The Workers' Convention of Minhaj-ul-Quran International was held in the Minhaj University Campus Township on July 5, 2008 where a beautifully-decorated venue was set up. Shaykh-ul-Islam Dr Muhammad Tahir-ul-Qadri presided over the event, whereas Sahibzada Hassan Mohi-ud-Din Qadri; president of the Supreme Council (MQI), and Sahibzada Hussain Mohi-ud-Din Qadri, member of the Supreme Council (MQI), were the guest of honour at the occasion. Sardar Ganga Singh Dahloon from Virginia State of the US, president of Tehreek-i-Khalistan, had a special attendance of the programme. Those from among the prominent people present at the occasion included Khawaja Moin-ud-Din Mahboob Koreja from Kot Mitthan Sharif, Khawaja Qutub-ud-Din Faridi, Nazim-e-Ala Dr Raheeq Ahmad Abbasi, Sheikh Zahid Fayyaz, Allama Hafiz Nazir Ahmad, Faheem Anwar Randhawa, G.M. Malik, former Olympian Akhtar Rasool, Khawaja Muhammad Junaid, Rana Muhammad Idrees Qadri, Anwar-ul-Mustafa Hamdami, Ahmad Nawaz Anjum etc. Thousands of women of Minhaj-ul-Quran Women League also attended the convention and separate arrangements were made for their seating.

The proceedings of the programme got under way formally with the recitation from the Holy Quran at 9 pm at night followed by Naat. President of Minhaj Youth League, Muhammad Bilal Mustafvi, conducted the programme, whereas renowned poet Anwar-ul-Mustafa Hamdami invited Shaykh-ul-Islam Dr Muhammad Tahir-ul-Qadri for speech in his characteristic style. Hundreds of thousands of workers greeted Shaykh-ul-Islam with resounding slogans. Before the start of his address, Shaykh-ul-Islam said that he was very happy to meet the workers of MQI after the lapse of 10 months. Dr Muhammad Tahir-ul-Qadri said Minhaj-ul-Quran International was continuing its journey in this materialistic age and in spite of every kind of opposition. The workers hold special importance in this equation. No movement of the world ever achieved success without the effective role of its workers. He urged the workers to put in more efforts with devotion and commitment and convey the message of MQI in every nook and corner of the world. He said a day would soon come when the thick layers of darkness will evaporate.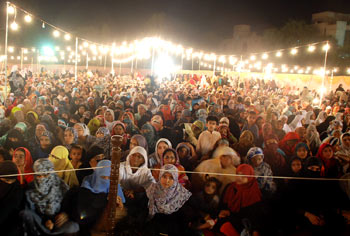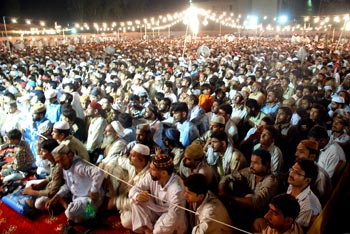 Shaykh-ul-Islam further said Pakistan was created to stay and by grace of Allah Almighty it would continue to live forever. Those conspiring against the integrity of the country are doomed to fail. He said it was unfortunate that most of the independent countries have not been independent anymore in their policy-making. They have become subservient to the foreign imperial powers in every respect. He said the true worker is such that is not affected by the vagaries of time and remains steadfast on the path of his mission. He said Islam has been bracketed with terrorism due to a conspiracy and imperial forces were busy finding ways and means to bring Islam into disrepute. He asked the workers to show better conduct as an ambassador of peace and should continue to serve the humanity with God-weariness and piety. In his message he said, Islam has nothing to do with terrorism, rather it is promoter and projector of peace. Dr Raheeq Ahmad Abbsi and Sheikh Zahid Fayyaz also spoke on the occasion.