Pakistan Hockey Team visits Secretariat of MQI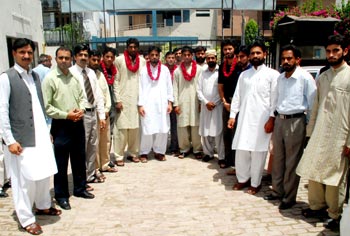 Reported by: M S Pakistani
Translated by: Amanat Ali Chaudhary

A six-member delegation of Pakistan Hockey Team visited the central Secretariat of MQI on July 24, 2008 under the leadership of its captain Zeeshan Ashraf. The delegation comprised vice captain Muhammad Imran, Full Back Imran Warsi, Center Half Muhammad Javid, Farward Muhammad Irfan and Full Back Muhammad Itique in addition to captain Zeeshan Ashraf. Upon their arrival at the Secretariat, they were received by a committee of Minhaj-ul-Quran Youth League led by Muhammad Bilal Mustafvi. The guests were garlanded and bouquet of flowers was presented to Captain Zeeshan Ashraf. Renowned sports journalist Ijaz Wasim also accompanied the team.

The players of national hockey team were conducted to Punjab Office, Minhaj Welfare Foundation, Press and Publications, College of Shariah, Minhaj Internet Bureau, Minhaj-ul-Quran Youth League, Directorates of Training, Foreign Affairs, Sale Centre, Minhaj Productions and other departments of MQI. During the visit the heads of departments and Directorates briefed the players about the role, responsibilities and nature of work of their respective departments. All players also visited Gosha-e-Durood and offered Durood.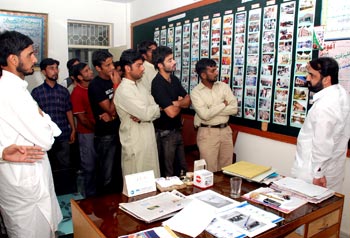 Explaining the role of Minhaj-ul-Quran Youth League, president Bilal Mustafvi said that we were working in the country for the reform of youth, spread of knowledge and promotion of peace and positive values. Youth Wing also has MSM, a forum of students, which is working in educational institutions.

At the end of visit, the delegation held a special sitting with Director Foreign Affairs G.M. Malik. Director Sports of Minhaj University and eight time Karate champion Iqbal Murtaza Haider was also present in the meeting. Giving briefing to the delegations, G.M. Malik said MQI has his network spread in more than 80 countries in the world and under the inspiring leadership of Dr Muhammad Tahir-ul-Qadri it was engaged in popularizing the message of peace, global harmony and mutual coexistence. MQI hosts the second biggest Itikaf and the biggest ever Milad Conference in the whole world. He said it was a matter of immense pride that people belonging to all walks of life especially youth and women were joining MQI by getting impressed by the message of Shaykh-ul-Islam Dr Muhammad Tahir-ul-Qadri.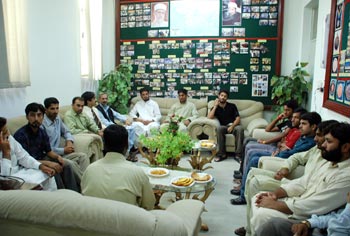 Shaykh-ul-Islam Dr Muhammad Tahir-ul-Qadri is staying abroad these days to give his undivided attention to research and creative work. He said MQI was an international organization and its services for global peace have been recognized. It has a network of Islamic centres and educational institutions, which were working both inside as well as outside Pakistan. Shaykh-ul-Islam is the only personality in the contemporary age whose 400 works have been published in various languages and his more than 6000 speeches are also available in audio and video forms. G.M. Malik also addressed the queries of the delegation satisfactorily.

Expressing his views, Captain Zeeshan Ashraf said that we were happy to visit MQI and its Secretariat. Shaykh-ul-Islam is an asset of the Umma and Pakistan and we are greatly pleased to see his practical efforts in diverse fields. We would continue to come here along with Pakistan hockey team. He said we would soon be leaving for China in connection with Olympics games and that we were in a dire need of nation's prayers.

At the end of the meeting, G.M. Malik gifted each player Irfan-ul-Quran (the Urdu translation done by Shaykh-ul-Islam Dr Muhammad Tahir-ul-Qadri) and poster carrying the name Muhammad (saw) shown on the image of heart, which was launched during this year's International Milad Conference. A collective Dua was offered for the success of the team during Olympics. The national hockey team was sent off with prayers and good wishes.