Lahorites urged to play role to save Lahore: Maj (r) Muhammad Saeed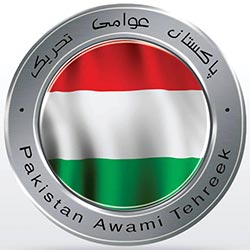 PAT will attend the protest demonstration being carried out by the joint opposition against the anti-heritage and anti-people Lahore Metro Train project. He said that the Lahorites will have to come to the roads to save Lahore. The decision to join the protest of the united opposition was taken in a meeting held at the central secretariat with Maj. (r) Muhammad Saeed in the chair. Ch. Muhammad Arif, Secretary General PAT Lahore, Sajid Bhatti, Secretary Coordination, Raja Nadeem, Haji Furrukh, and the leaders of MSM, Youth Wing attended the meeting.
Major (r) Muhammad Saeed said that we would play our national role to express our solidarity with the Orange Line affectees and save the historic Lahore city from disfigurement. He said that the power of the people will force the arrogant rulers to submit before the masses. He said that Orange Line is the not project meant for public welfare but for welfare of the rulers themselves.
Sajid Bhatti appreciated the proactive role of civil society organizations in their shared drive to protect Lahore from the ill effects of such a controversial project as Orange Line. He said that those who had no qualm about killing innocent people would give a hoot while demolishing historic buildings.
Ch. Muhammad Arif said that the rulers are obliterating the historic identity of Lahore for the sake of their commission. He said if the culture of loot and plunder was not stopped in the name of development, the natural beauty of Lahore will be decimated.