LHC bans open sale & purchase of police uniform on PAT petition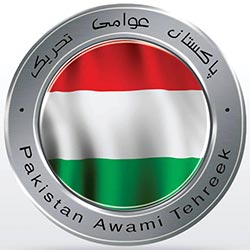 Ishtiaq Ch Advocate, the leader of PAT Lawyers Wing, has said that the judicial verdict on a writ praying for ban on the open sale and purchase of police uniforms and other related material will help control terrorism and serious crime. Welcoming the verdict of the Lahore High Court, he said that all workers of Dr Tahir-ul-Qadri are waging a struggle against terrorism and extremism.
Ishtiaq Ch Advocate expressed these views while talking to media men in the central secretariat of the party. He said that the PAT is fighting against terrorism and extremism politically, legally, morally, religiously and intellectually. He said that we had filed a petition in the LHC three months ago praying for imposition of a ban on the open sale and purchase of the police uniform because the terrorists are able to get an access to these things easily and use them for terrorist activities.
Meanwhile, Dr Hassan Mohi-ud-Din Qadri, senior PAT leader, has congratulated Ishtiaq Ch Advocate on leading from the front and drawing the attention of the court to an important public issue. He said that this should have been done by the provincial government and the apex committees which Ishtiaq Ch did with cooperation of judiciary. He said that every citizen can play his/her role in the efforts to eliminate the scourge of terrorism and extremism, adding that example of Ishtiaq Ch Advocate is before all to see and follow. He said that it is surprising that on the one hand, the government does not tire of drumming about implementation on the NAP, the sensitive security-related material has been on the sale openly. He said that it is now responsibility of the government to act upon this judicial verdict.