Lahore: Mass marriage ceremony to be held under Minhaj Welfare Foundation on April 3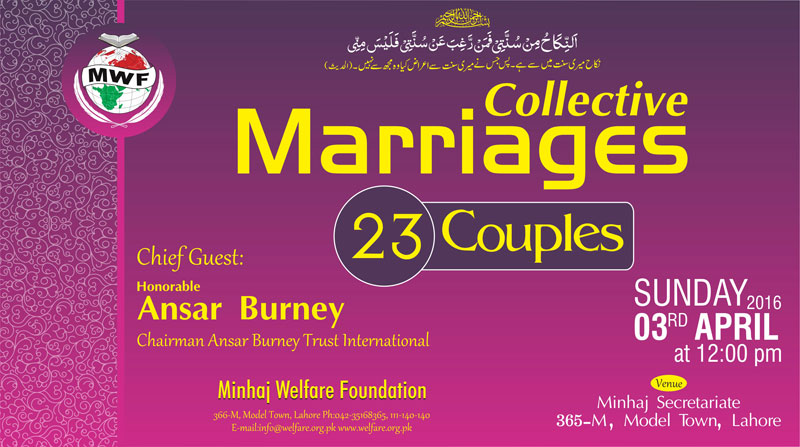 An annual mass marriage ceremony of 23 couples belonging to low income groups will be held in Model Town under the banner of Minhaj Welfare Foundation on April 3, 2016. Renowned human rights activist Mr. and Mrs. Ansar Burni will the guests of honour whereas the political figures belonging to PTI, PPP, Majlis Wahdat-ul-Muslimeen, and Sunni Ittehad Council and personalities associated with sports and showbiz will also attend the function. The committees have been formed and the preparations have got underway in this regard.
Under the mass marriage project which has been designed on the instructions of PAT Chairman Dr Muhammad Tahir-ul-Qadri, thousands of girls belonging to the poor households have been married so far with all their expenditures being borne by the MQI.
Talking to the members of the administrative committees, Syed Amjad Ali Shah, Director of Minhaj Welfare Foundation, said that the girls belonging to the poor families get old without marriage because their parents are unable to bear the cost. He said that MWF has been holding mass marriage ceremonies at the central, provincial and divisional level every year to help the poor parents discharge their responsibility of marrying their daughters. He said that necessary items of use to the tune of Rs. 0.2 million are gifted to every bride in addition to arrangements for marriage feast for 60 guests of each bride. He said that three non-Muslim couples are among those to be married off at the mass marriage ceremony this year. The religious scholars of Muslim and non-Muslim communities will be present to solemnize the Nikkah.