PAT writes letter to NAB, demands investigation into LESCO scam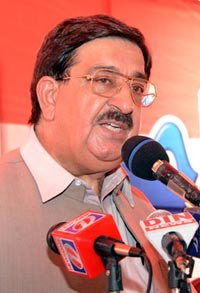 PAT Secretary General Khurram Nawaz Gandapur has written a letter to the Chairman National Accountability Bureau in which he said that LESCO bought mobile sets of worth Rs. 90 million for meter readers whose purpose was to take photographs of meters and print those images on the electricity bills. He said that despite passage of 9 months, not even a single bill of this kind has been printed and the mobile sets have been found to be defective. He said that this act has caused a loss of Rs. 90 million to national exchequer. He said that if the NAB is independent institution, it should hold an inquiry into the scam and take action against LESCO officials.
Khurram Nawaz Gandapur said that the distribution company is already overcharging the consumers by a big margin of Rs. 35 compelling people to commit suicides whereas the national wealth is being looted through front men and blue-eyed companies. He said that it is our demand to the Chairman NAB to order an inquiry into the purchase of mobile sets bought for the meter readers. He said that lap tops to the tune of Rs. 6 billion, solar panels to the tune of 4 billion and computers to the tune of Rs. 5 billion were purchased during the current government. All of these purchases were over and above the market rates and these items have turned into scrap with these things not being there in any educational institutions, so much so that the lap tops have been purchased at half of the price.
The PAT Secretary General said that a very sophisticated and technical corruption is committed where companies, front men have hazy identities and invoicing is done in most questionable manner. He said that challenge is thrown to political opponents to prove a corruption of even a single penny, stating that the fact of the matter is that if you dig up a little deeper, mountains of corruption will appear in every department. He said that it is standard way that things are priced double of their original price.