Culture of corruption & nepotism rendering Pakistan hollow: PAT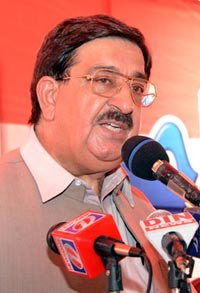 Addressing the meeting held to review arrangements for the upcoming PAT APC on March 28, the senior PAT leaders have said that owing to nepotism, patronage of corruption and recommendation culture, there is no meritocracy in the country and rat race has become order of the day. He said that in addition to the institutions, cricket, which used to be the only source of entertainment, has been destroyed as well. He said that political, social and economic wrongdoings of the rulers have rendered the foundations of Pakistan hollow. They said that it appears that any possibility of reform seems to have evaporated in the thin air.
The meeting was attended by Khurram Nawaz Gandapur, Major (r) Muhammad Saeed, Fayyaz Warraich, Sajid Bhatti and Noorullah Saddiqi.
Khurram Nawaz Gandapur said that a very clear position will be spelled out on corruption and Model Town tragedy in the APC on March 28. He said that central leaderships of all political parties have been contacted and they have assured of their participations. He said that PAT wants justice for 14 of its workers, adding that the Model Town tragedy is the worst incident of violation of human rights in the history of the country.
Major (r) Muhammad Saeed, while speaking on the occasion, said that the Kissan package of Rs. 341 billion has turned out to be a façade, adding that in the same way the agriculture support package of Punjab Government to the tune of Rs. 100 billion is also a bluff as none of its details has been spelled out. He said that reduction in production of cotton by 40% is the glaring proof of the rulers' enmity with the farming community.
Fayyaz Warraich said on the occasion that corruption and nepotism are order of the day. He said that the rulers can go to any extent to perpetuate their rule. He said that bribery of billions of rupees is offered to the legislators in the name of development fund solely to retain their support. He said that PAT will continue to wage struggle against the exploitative system till the last and the APC on March 28 will prove to be a milestone.
Noorullah Saddiqi said that arrangements of the APC have been completed. He said that like-minded political parties will attend the APC in which Dr Tahir-ul-Qadri will deliver his speech.