Government explanations too little late: PAT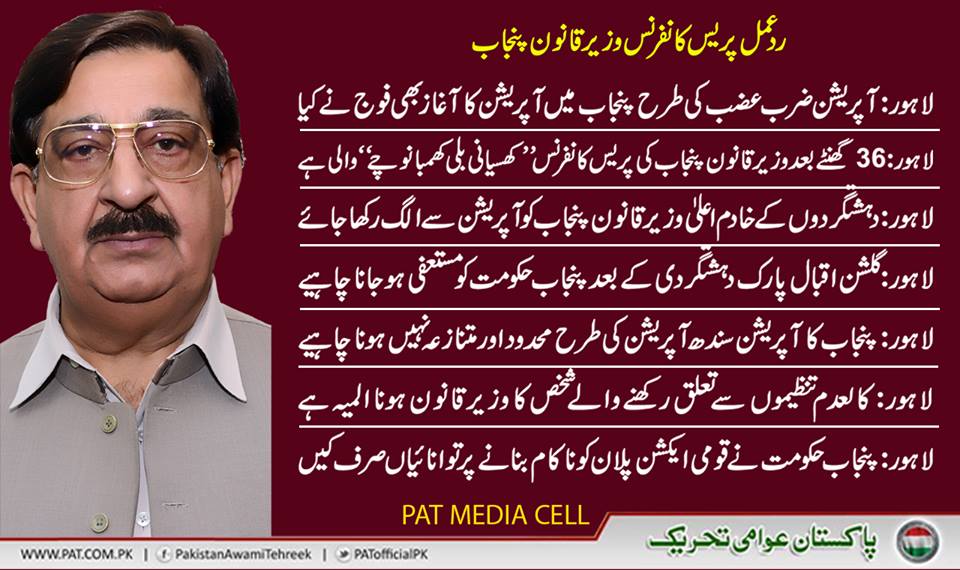 In their response on the press conference top Punjab Government functionaries held 36 hours after the Gulshan-e-Iqbal tragedy, PAT leaders said that explanations by the government carry little weight. They said that by passing the statement 'we would not leave terrorists'; the law minister spoke full truth for the first time. They said that it would be real hard for him to leave them. They said that Dr Tahir-ul-Qadri has been saying for well over a year now that operation against terrorists should be launched in Punjab. They said had this been implemented, the hundreds of precious lives would have been saved.
The meeting was attended by Khurram Nawaz Gandapur, Major (r) Muhammad Saeed, Khawaja Amir Fareed Koreja, and Fayyaz Warriach.
Addressing the meeting, Khurram Nawaz Gandapur said that we are happy that the army has launched operation in Punjab without informing the Punjab high-ups because important targets would have been shifted to safe locations. He said that since the launch of the operation, the rulers have been flabbergasted. He said that it is our demand that Punjab Law Minister should not be made part of any meeting related to the operation till its completion, otherwise important information will be leaked.
Major (r) Muhammad Saeed said that the operation against terrorists started by the Pakistan army should be taken to its logical conclusion. He said that suicide bombing in Gulshan-e-Iqbal is the result of criminal negligence, adding that those who continued to get mandate of the Lahore for many years failed to secure life and property of people of the city. He said that had the rulers accepted the responsibility of the failure, they should have resigned by now. He said that launch of operation in Punjab is a good omen for the national security. He said that the operation in Punjab should not be limited and controversial like the one in Sindh. He said that those who deserve to be held accountable are holding important positions. He said that time has come that supporters and facilitators of terrorists are hunted down.
Amir Fareed Koreja said that every worker of PAT is with the armed forces in their efforts to flush out terrorism from Punjab. He said that we are ready to offer any sacrifice for peaceful Pakistan. He said that Dr Tahir-ul-Qadri is the only national and Muslim leader who initiated intellectual struggle against terrorism and exposed the militants and terrorists at intellectual level.
Fayyaz Warriach said that farmers and working class has been pushed against the wall in South Punjab. The terrorist groups have tried to lure the youth due to poverty and destitution in the backward areas. He said that thousands of children belonging to Southern Punjab are unable to join the mainstream due to lack of education facilities and these are the kids who fall victim to terrorists. He said that resources should be spent on education and health sectors. He said that the people were waiting for army operation for peace to prevail and with the army moving in, they are happy.