COSIS: Weeklong celebrations end with tributes to Dr Tahir-ul-Qadri
The concluding programme of a weeklong celebration marking the 65th birthday of Dr Muhammad Tahir-ul-Qadri was held at the COSIS on March 03, 2016. All-Pakistan Urdu speech declamation was part of the last day's activities. The concluding ceremony was presided over by Dr Hussain Mohi-ud-Din Qadri, whereas PTI leader Ibrar-ul-Haq, Allama Dr Muhammad Iqbal's grandson, Waleed Iqbal, PPP leader Nadeem Afzal Chan, MPA Punjab Assembly Khurram Jahangir Wattoo, renowned TV anchor Fawad Chaudhry, renowned comedian Iftikhar Thakur, KIPS College Director Khalid Pervez, Sir Syed Institute Principal Imran Khan, and the staff members and teachers of COSIS were also present on the occasion.
The proceedings of the ceremony got underway with the recitation from the Holy Quran by Qari Tahir Ramzan followed by Naat which Talat Mahmood had the honour of reciting. The male and female students belonging to educational institutions of the country including GC University Lahore, Jamia Muhammadia Ghousia Bhera Sharif, COSIS, Ghosia Model High Schools. Prof Abdur Raoof, Prof Abdul Qudoos Durrani, and Muhammad Sanaullah Tahir were the jury members on the occasion.
Rabia Shabbir of GC University, Muhammad Talha Hasnat of COSIS, and Muhammad Amir Raza of Jamia Islamia Minhaj-ul-Quran bagged first, second and third positions respectively.
Speaking on the occasion, Dr Hussain Mohi-ud-Din Qadri said that though the number of educational institutions has increased manifold but the quality of the graduates leaves a lot to be desired. He said that our educational institutions are not producing the people like Imam Ghazali. He said that as long as the Muslims remained dynamic and sincere, they continued to keep going up and winning laurels. He said that sincerity is one of the traits of personality of Dr Tahir-ul-Qadri.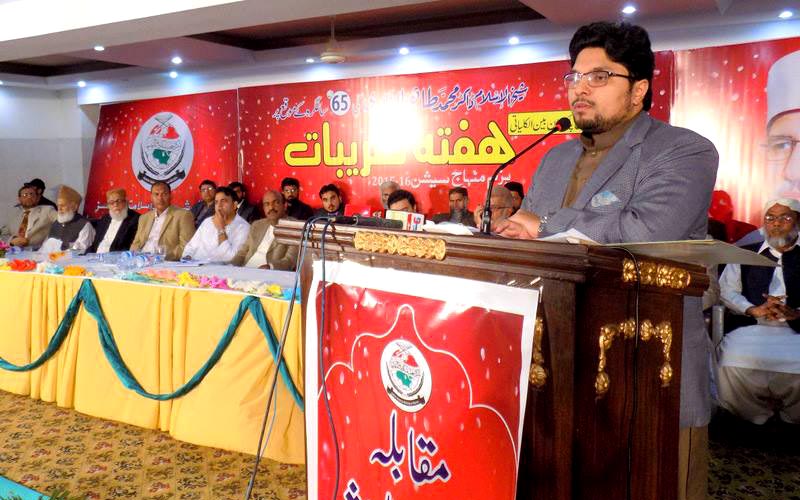 Expressing his views, comedian Iftikhar Thakur said that whatever good happens in this country is ordained by Allah Almighty and whatever bad happens is due to the government. He said that women protection bill is actually police protection bill. He said that if land is not fit for cultivation, there would be no good crop, adding that if religion is not practiced in home, the young generations go astray.
PPP leader Nadeem Afzal Chan thanked the management for the invitation. He said that he was pleased to meeting the students of COSIS. He said that politics is not bad in itself, adding that it has become dirty because of the bad people doing politics. He said that the Punjab is ruling the whole country. He said that if expenditure of metro bus is divided among the districts, it will cause considerable progress.
Khurram Jahangir Wattoo praised the discipline and educational standards at the COSIS. He made a promise that he would continue to raise the Model Town issue at the floor of the Punjab Assembly for justice.
Anchor Fawad Chaudhry said that MQI was a distinguished and unique organization from the rest. He said that due to our policies, Pakistani passport has become the world's second worst document.
Waleed Iqbal congratulated Shaykh-ul-Islam Dr Muhammad Tahir-ul-Qadri on his 65th anniversary. He said that he has had longstanding relationship with MQI. He said that his mother, Dr Nasira Javed Iqbal, has been the student of Dr Qadri.
Ibrar-ul-Haq and Mian Zahid Junaid also addressed the ceremony. Mian Hassan Abbas, President of Bazm-e-Minhaj, thanked the respected guests for their attendance and thanked everyone for their cooperation in making ceremony and Bazm-e-Minhaj Week a roaring success.
The prizes were distributed among the winners of various contests.