COSIS: Knowledge identified as the only way to glory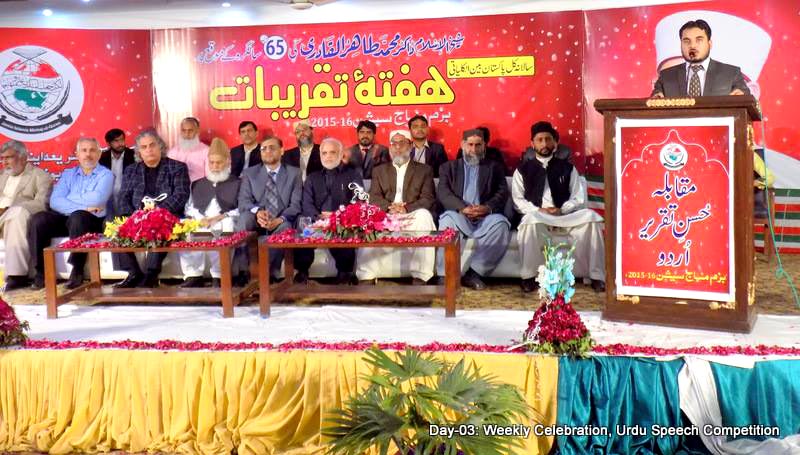 The essay writing and Urdu speech declamation contests were held at the COSIS on March 02, 2016 as part of weeklong celebration ceremonies marking the 65th birthday anniversary of Shaykh-ul-Islam Dr Muhammad Tahir-ul-Qadri. The proceedings of the ceremony got underway with the recitation of the Holy Quran followed by Naat. Former Prime Minister of AJ&K Sardar Ateeq Ahmad was the chief guest on the occasion, whereas other distinguished guests were PAT Secretary General Khurram Nawaz Gandapur, PTI leader Ijaz Chaudhry, renowned lawyer SM Zafar, MWM leader Allama Nasir Sherazi, senior journalist Arif Hameed Bhatti, renowned actor and director Usman Pirzada, Hafiz Usman and singer Sohail Ikhlaq.
COSIS Principal Dr Khan Muhammad Malik, Administrator Raja Fazal Mehdi, Mufti Abdul Qayyum Khan Hazarvi, Sabir Hussain Naqashbandi, Dr Nabeela Ishaq and students and teachers of COSIS were also present on the occasion.
Male and female students belonging to 15 educational institutions took part in the contests. Prof Muhammad Ashraf Chaudhry, Hafiz Muhammad Asif Qadri, and Muhammad Asif Wattoo performed the responsibility of jury in the programme.
Qurat-ul-Ain of GC University Lahore, Zeenat Butt of Punjab Law College, and Muhammad Faran of COSIS got first, second and third positions in the Urdu speech declamation contests. In essay writing competition, Muhammad Sharjeel, Muhammad Talha Khursheed and Faizan Butt bagged first, second and third positions.
Speaking on the occasion, senior PTI leader Ijaz Chaduhry said that oppression is present in every department of life. He said that we have not only to stop the way of oppression but also take steps to haul those who oppress others.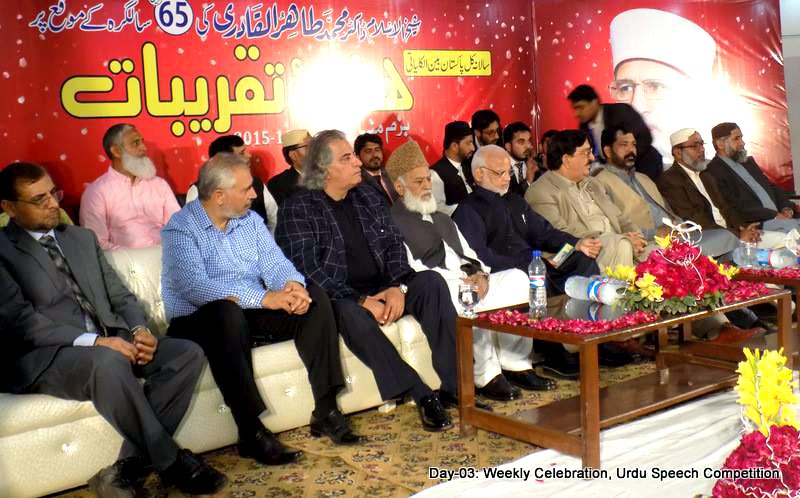 SM Zafar congratulated all the students who took part in the competitions. He said that we need to work harder to implement what we know than on acquiring knowledge. He said that Dr Tahir-ul-Qadri established the peacefulness of Islam through his knowledge and action. He said that Dr Tahir-ul-Qadri wants to see students adopt such a life-style which proves that Islam is above all other religions and civilizations.
Arif Hameed Bhatti said in his speech that while we talk about oppression and human rights violations in Kashmir and Afghanistan, we tend to overlook the same here in our own country. He said that more than 80% people's salary is less than 10,000 rupees here. He said that people are compelled to sell their kidneys and children out of poverty while the rulers are selling PIA.
Khurram Nawaz Gandapur said in his speech that change does not come through desires alone. For change to be possible, there is a need of constant struggle and unwavering commitment. He said that the US which emerged on the world scene as the greatest power in 2000, has a debt of 16 trillion dollars, whereas China, which used to be a country populated by the drug addicts has come to have reserves to the tune of 32 trillion dollars after a hard work of 60 years. He welcomed the former PM of AJ&K to the central secretariat of MQI and said that the struggle for Kashmir is not complete without the mention of his father.
Addressing the ceremony, Sardar Ateeq Ahmad Khan thanked the Bazm-e-Minhaj for the invitation and congratulated Shayh-ul-Islam on his 65th birthday. Throwing light on the prevailing situation, he said that Pakistan is like such a car in the world, which is moving on without a driver. He said that Pakistan is a country of the people who have the power of conviction and belief. He said that Pakistan and Kashmir can generate so much electricity that they can export it to other countries as well. He said that we should make efforts for inclusion of the Last Sermon of the Holy Prophet (SAW) the part of the UN charter.
MWM leader Allama Nasir Sherazi said that if people think that the Model Town story has ended, they are wrong to think so. He said that nature does not let oppression go unpunished.
All position holders in various competitions were given prizes on the occasion.