MYL's Zarb-e-Aman Cricket Tournament concludes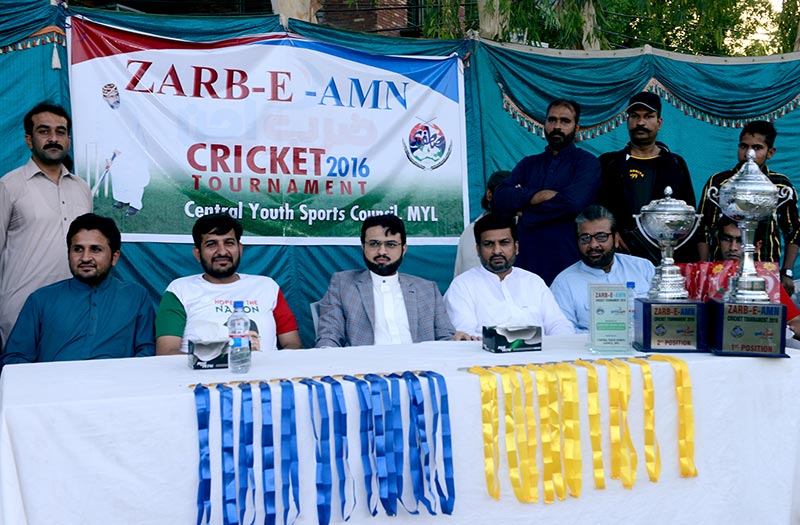 Central Sports Council of Minhaj-ul-Quran Youth League arranged a cricket tournament in connection with the countrywide peace initiative. The final match of the tournament was played at the playground adjacent to the central secretariat between Al-Qadria 299 and Shariah Superstars on June 3.
Dr Hassan Mohi-ud-Din Qadri took keen interest in the final match and was the distinguished presence in the fixture. Other guests who watched match included Sajid Mahmood Bhatti, Raja Zahid, Noorullah Saddiqi, Irfan Yousaf Ch, Iqbal Murtaza Haider, Muhammad Waqar Qadri, Asmat Ali, Haroon Sani, and Malik Muhammad Imran. A large number of spectators were present in the playground to watch the final match. Al-Qadria defeated Shariah Superstars to clinch the title of Zarb-e-Aman Cricket Tournament.
Dr Hassan Mohi-ud-Din Qadri, MYL President Mazhar Mahmood Alvi, and Secretary General MYL Mansoor Qasim Awan distributed prizes among the players. Dr Hassan congratulated the office bearers of MYL on the successful conduct of the tournament and gave them honorary shields. He also appreciated the role of MYL in projecting peace initiative campaign.