International Spiritual Congregation 2008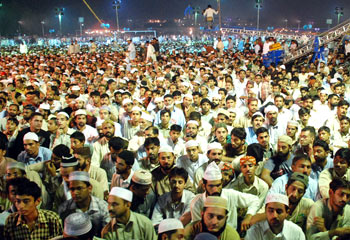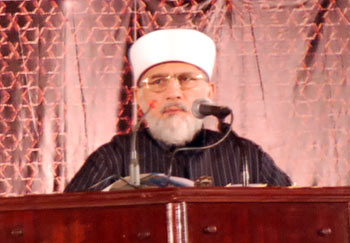 Reported by: M S Pakistani
Translated by: Amanat Ali Chaudhry
International Spiritual Congregation was held on September 27, 2008, in the ground adjacent to Jamia al-Minhaj under the banner of Minhaj-ul-Quran International. Shaykh-ul-Islam Dr Muhammad Tahir-ul-Qadri presided over the programme. Hundreds of thousands of people participated in the programme from across Pakistan and the entire world. Separate arrangements were made for women. Pir Amin-ul-Hasnat Shah of Bhera Sharif, Surgeon General of Punjab Dr Fayyaz Ranjha, Sajjada Nasheen Sayyid Moin-ud-Din Chishti Ajmeri; Khawaja Rahat Hussain, Ameer MQI Miskin Faiz-ur-Rahman Durrani, Pir Khalil-ur-Rehman Chishti, Nazim-e-Ala Dr Raheeq Ahmad Abbasi, Khawaja Pir Muhammad Yunus of MQI London and naib Nazim-e-Ala Sheikh Zahid Fayyaz were among the prominent guests at the occasion. These respected guests were seated to the left side of the stage. The first session of the programme got underway at 11:30 pm with 'Salat-tus-Tasbih'.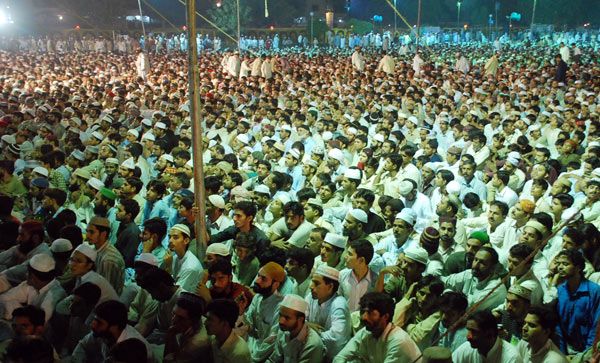 At 12:10 a.m. the second session of the programme started, which was telecast live till 4 a.m. on ARY Digital and QTV throughout the world. Qari Khalid Hameed Kazami of COSIS recited the Verses from the Holy Quran to inaugurate the second part followed by recital of Naat by Shahzad Brothers of COSIS, Bilali Brothers of Minhaj Naat Council and Muhammad Afzal Noshahi in the honour of the Holy Prophet (saw).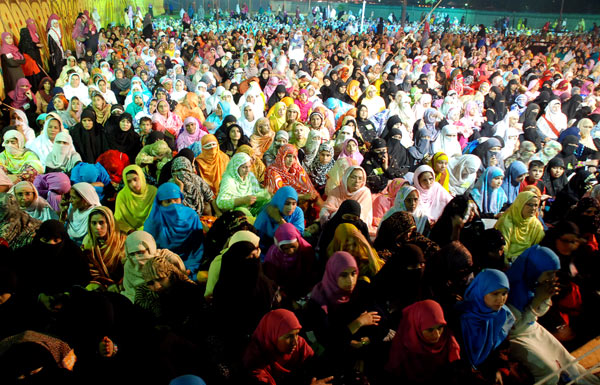 Presenting the welcome address, Nazim-e-Ala MQI Dr Raheeq Ahmad Abbasi greeted the participants from across the country. He said we wanted to convey to the world that Minhaj-ul-Quran International and its workers were engaged in the efforts for establishment of peace and order under the dynamic leadership of Dr Muhammad Tahir-ul-Qadri. He said Shaykh-ul-Islam Dr Muhammad Tahir-ul-Qadri was an ambassador of peace, global harmony and reconciliation. He also thanked the administration of ARY and QTV for showing the International Spiritual Congregation live on their televisions worldwide. He also felicitated the workers of local chapters of MQI for making the programme a success.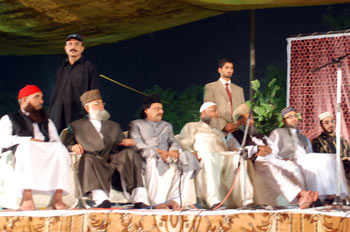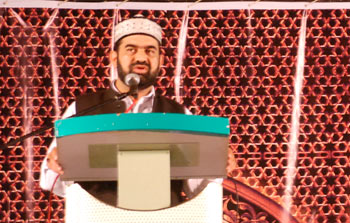 Highlights
Venue for International Spiritual Congregation was set up from Minhaj Girls College to the central Itikafgah.
In view of security arrangements, the road from the Ghousia Chowk was blocked for every kind of traffic.
Vehicles of Rescue 1122, Fire Brigade and Minhaj Ambulances were standing ready to cope with any emergency situation.
Security personnel swarmed area of 1 kilometer from Minhaj Girls College to central Iikafgah.
Security officials and personal guards of Shaykh-ul-Islam remained alert around the central stage after arrival of Dr Muhammad Tahir-ul-Qadri.
Ground of Shah Faisal Cricket Club was designated as a parking area. However, given the great rush of vehicles, they were also seen parked in the streets and nearby roads.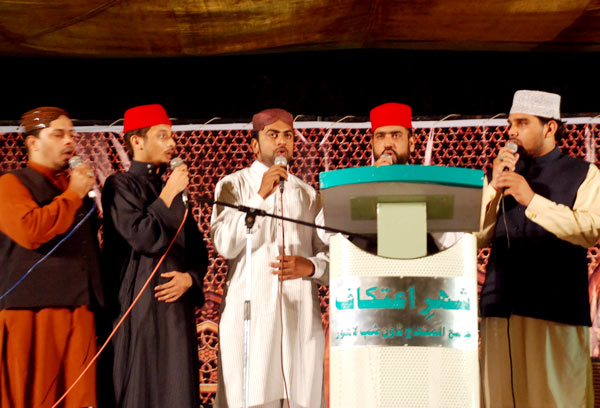 Three central gates were set up for entrance into venue where security officials and workers of MQI stood vigil and inspected every participant before allowing him entry.
Prior to start of programme, Nazim-e-Ala Dr Raheeq Ahmad Abbasi and Sheikh Zahid Fayyaz kept overseeing the arrangements themselves.
A team of Minhaj Productions under the supervision of Shaif-ur-Rehman Saad telecast the programme live with ARY and QTV.
ARY and Minhaj Productions used two cranes and ten cameras for the liver coverage of the Spiritual Congregation.
People started arriving around evening prayer, whereas the security personnel had taken control of security of stage at 2 pm.
At 11:15 pm, the central leadership of Minhaj-ul-Quran Women League entered the venue with the family of Shaykh-ul-Islam Dr Muhammad Tahir-ul-Qadri.
At 12:30, the space of venue was already filled with people.
On the left side of stage, Minhaj Internet Bureau put up its counter for liver coverage of programme on internet.
Mobile jammers were installed in order to ensure fool-proof security.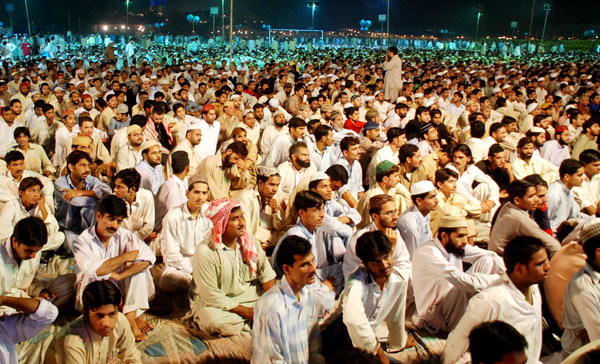 Women security volunteers looked after the security of women.
The operatives of intelligence and secret agencies were also present along with Police to ensure security.
At 12:10, the live coverage of programme started and Allama Irshad Hussain Saeedi welcomed the audience and viewers at this occasion.
When Shaykh-ul-Islam Dr Muhammad Tahir-ul-Qadri came onto the stage at 12:30 a.m., the hundreds of thousands of people gave him a standing ovation and raised slogans. He responded back by waving his hands.
Spread over 3 hours and 40 minutes, the speech of Shaykh-ul-Islam Dr Muhammad Tahir-ul-Qadri started at 1:08 am and ended at 4:48 a.m.
The 'Sahri' arrangements were made for the participants at large scale.
Allama Irshad Hussain Saeedi conducted the proceedings of the programme.