'Ambassador of Peace' Seminar 2018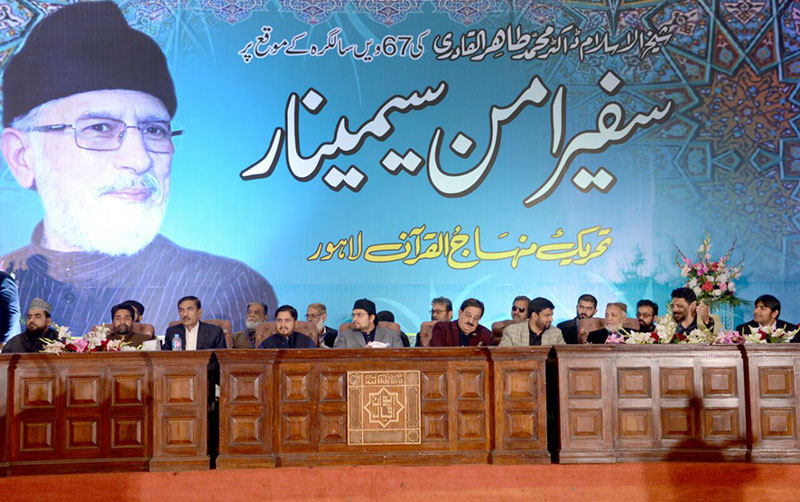 Addressing 'Ambassador of Peace Seminar' held in Aiwan-e-Iqbal Lahore on February 17, President of MQI Dr Hussain Mohi-ud-Din Qadri has said that if those involved in changing the text regarding the belief in the finality of prophethood are not punished, such heinous attacks on the belief will continue to take place in future as well. He said those who tried to make this agreed-upon and settled issue controversial still continue to wait for an opportunity to fulfill their nefarious designs. He said that ideological terrorists have been placed in the policy-making positions under a carefully planned strategy and their agenda is to render the foundation of the faith of the believers hollow and spread discord in the land, stating that the ruling party happens to be the facilitators of such elements. He said that MQI is an international organization engaged in the noble work of promoting peace, love, tolerance, knowledge and reforming people's morals.
PAT Secretary General Khurram Nawaz Gandapur, Rafique Najam, Hafiz Ghulam Farid, Ishtiaq Hanif Mughal, Allama Imdadullah Qadri, Zara Malik, Afzal Gujar, Umar Awan, Haji Muhammad Farrukh and Younis Noshahi addressed the Conference.
Dr Hussain Mohi-ud-Din Qadri said that the workers and associates of MQI are working for elimination of terrorism, extremism and militancy and protection of the basis of faith throughout the world, considering it to be their national and moral duty. He said that Dr Tahir-ul-Qadri has provided scholarly literature and research based material prepared in the light of the Holy Quran and Sunna in such a large quantity that no ideological terrorist can succeed in his anti-Islam, nefarious agenda nor can he mislead the succeeding generations. He said that every member of the Muslim community can proudly describe the narrative of MQI consisting of love, peace and harmony in any part of the world. He said that protection of the national honour and religious values is our faith.
PAT Secretary General Khurram Nawaz Gandapur said on this occasion that Tahir-ul-Qadri is also a doctor of belief. He said that whenever any virus attacks the core beliefs and values of the Muslim world, Dr Tahir-ul-Qadri immediately cures such an infection. He said that treatment of infection called terrorism is a great accomplishment of the PAT Chairman.
Rafique Najam said that the workers of Dr Tahir-ul-Qadri are great lovers of Pakistan and Islam. He said that these workers cannot be intimidated or browbeaten into fear by threats of death or tactics of the vested interests.
More than two thousand people attending the Conference paid tributes to the martyrs of Model Town by standing up and showed their solidarity with their family members. They also expressed the resolve to continue to struggle for justice till the last breath.
Hafiz Ghulam Farid said in his speech that Dr Tahir-ul-Qadri served the religion and waged a struggle for a peaceful change and to send the corrupt and exploitative system packing. He rendered exemplary services in the process and unmasked the faces of the corrupt mafia. He said that Dr Qadri did not remain in the government even for a single day. Even then he established a network of institutions engaged in spreading knowledge, peace and harmony in the world, stating that these institutions are playing their active role in provision of guidance to the youth.
Zara Malik said in her speech that Dr Tahir-ul-Qadri provided sources to women for acquisition of modern knowledge. He gave them moral and spiritual training. She said that the women are thankful to their leader and pray for his good health and long life.
A cake marking the 67th birthday of Dr Tahir-ul-Qadri was cut on the occasion.